Kathy Bates Gets In The Holiday Spirit For 'Bad Santa 2'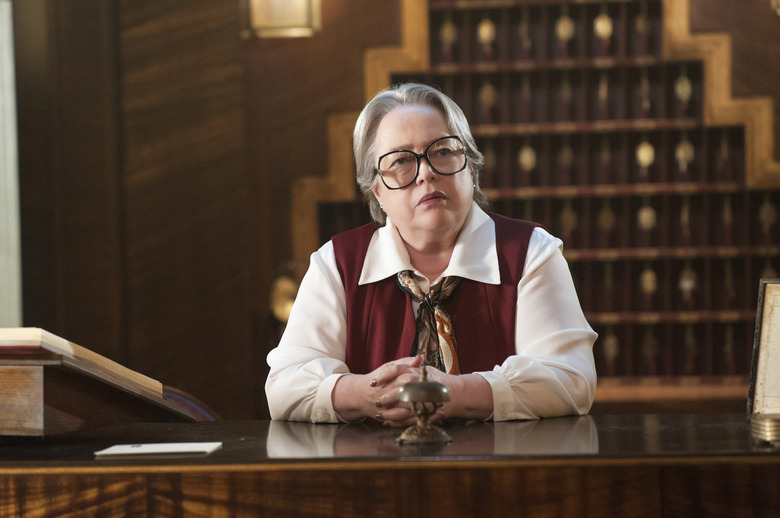 Billy Bob Thornton's Willie Soke is back for Bad Santa 2, as are Tony Cox's Marcus and Brett Kelly's Thurman Merman. But now the sequel has made its first new addition. Kathy Bates is joining the black-hearted holiday comedy, which will be directed by Mean Girls helmer Mark Waters. More on the Bad Santa 2 Kathy Bates casting after the jump. THR reports Bates has locked in her deal to play Sunny Soke, "the foulmouthed, tough-as-nails mother to Thornton's mall Santa, Willie Soke." In real life, Bates is only seven years older than the 60-year-old Thornton. Plot details are wrapped up tighter than a Christmas present, but – in case Kelly's return as a now-grown Thurman wasn't a dead giveaway — the new film is expected to take place several years after the events of the first.
Released in 2003, the original Bad Santa was directed by Terry Zwigoff from a script by Glenn Ficarra and John Requa. The story followed Thornton's Willie, a thief whose con is getting hired as a department store Santa and then robbing the place. Marcus was his assistant, whose stature makes him the ideal to play a department store elf. Willie's life takes a strange turn when he reluctantly befriends an earnest but awkward kid named Thurman Merman.
The film was a modest hit and has only become more beloved through years of Yuletide reruns. (Hey, those of us who don't enjoy the touchy-feely stuff need something to watch over the holidays, too.) A sequel was put into motion, but suffered years of stops and starts before it finally got a shot in the arm from Broad Green Pictures last month. The company signed on to co-finance and co-distribute with Miramax, set Thornton to reprise his role, and in short order hired Waters to direct.
Johnny Rosenthal, Doug Ellin (Entourage), and Shauna Cross (Whip It) are credited with the script, which has changed hands many times over the past several years. Andrew Gunn (Freaky Friday) will produce with Geyer Kosinski (FX's Fargo). Waters and Ellin serve as executive producers alongside Zanne Devine and David Thwaites of Miramax, Gabriel and Daniel Hammond of Broad Green, and Jessica Tuchinsky.
Bates won an Emmy last year for American Horror Story: Coven and was nominated for another Emmy this year for American Horror Story: Freak Show. She's back again this season for American Horror Story: Hotel. On the film side, she recently appeared in Tammy and will reunite with star Melissa McCarthy and director Ben Falcone for next year's The Boss. She also has Xavier Dolan's The Death and Life of John F. Donovan coming up soon.
Shooting on Bad Santa 2 is expected to get underway early next year. No release date has been set, but assuming everything goes according to schedule, holiday 2016 seems like it'd be a natural fit, right?