Christopher McQuarrie Returning To Write, Likely Direct 'Mission: Impossible 6'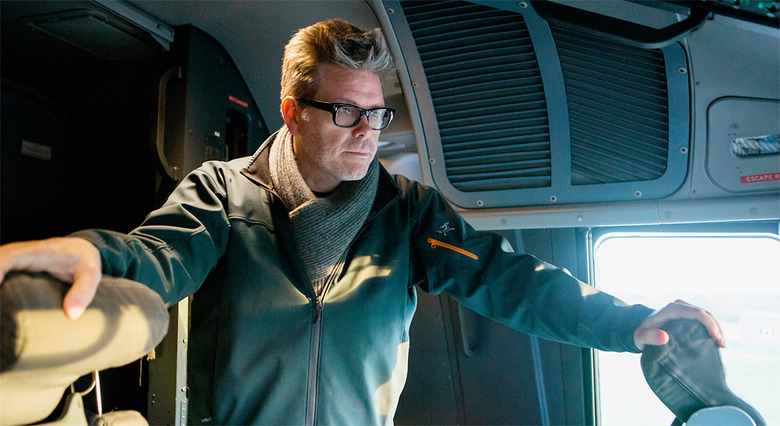 UPDATE: McQuarrie has confirmed on Twitter he'll return for Mission: Impossible 6.
Original story from 11/19/2015 follows.
Despite concerns about the film's ending rumored to need some extensive work, Mission: Impossible – Rogue Nation turned out to be quite the excellent blockbuster to finish out the summer, and it appears Paramount Pictures and Skydance are anxious to keep director Christopher McQuarrie around to keep the franchise going with Mission: Impossible 6. Find out more after the jump!
Variety has word that McQuarrie has been hired to write Mission: Impossible 6, but it's not clear if he will be back to direct as well. As of now McQuarrie is still in talks with the studio about the project, but they're getting close to wrapping up negotiations because the hope is for the sequel to be in production by next August.
The fast movement on the sequel isn't surprising since before Rogue Nation hit theaters, Tom Cruise had already appeared on The Daily Show and said the plan was to shoot a sequel next summer. Paramount confirmed the development not long after Cruise spilled the beans, and here we are with McQuarrie getting settled to accept another mission.
Right now Cruise is busy with another sequel, Jack Reacher: Never Go Back, which is in production in New Orleans right now. Funnily enough, Christopher McQuarrie directed the first film, which sparked his collabration with Cruise for Mission: Impossible – Rogue Nation. But for the sequel, it's Edward Zwick (The Last Samurai) behind the camera.
Rogue Nation was one of the more satisfying blockbusters of the summer, and it proved that Cruise isn't slowing down anytime soon. Plus, it really boosted the profile of the stunning and talented Rebecca Ferguson, so much that she's been mentioned as a possibility for movies such as Prometheus 2 (or Alien: Covenant as it's now officially called), the adaptation of The Girl on the Train and the forthcoming Captain Marvel.
Cruise will definitely return, but I hope producers are smart enough to bring Ferguson back, even though no other actress has lasted longer than a single Mission: Impossible film. Otherwise, Simon Pegg will likely be back in the mix, along with Jeremy Renner, the trusty Ving Rhames and the new IMF overseer, Alec Baldwin, but we don't have any official word on their return yet.
As for McQuarrie, he already proved he can keep Mission: Impossible exciting, and even though he wasn't on our list as a hopeful Mission Impossible 6 director, we'll be glad to have him back if he chooses to get behind the camera again.