Emma Stone Returns To Play Billie Jean King In 'Battle Of The Sexes'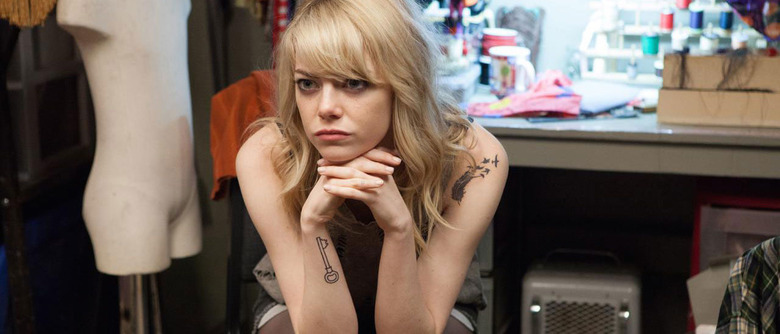 There are currently three movies in the works about Billie Jean King. The one potential version that appears closer to first reaching theaters is the Fox Searchlight production called Battle of the Sexes, directed by Jonathan Dayton and Valerie Faris (Little Miss Sunshine), which has Danny Boyle (Steve Jobs) attached as a producer. The project was sweetened by Emma Stone playing Billie Jean King until she was forced to drop out due to scheduling conflicts earlier this year. But now she's back.
This tennis match is one of the most famous "battle of the sexes." Bobby Riggs, a 55-year-old Wimbledon champion in retirement and well past his prime, faced off against two female tennis players. First, he defeated Margaret Court, but the 29-year-old Billie Jean King, the #1 ranked female tennis star, outmatched him. The tennis match, to say the least, was a big deal. Around 50 million people watched the event. The only other time this match has been depicted is in a forgotten 2001 TV movie, When Billie Beat Bobby, starring Holly Hunter as King.
Battle of the Sexes has been in the works for years. With a script from Simon Beaufoy (Slumdog Millionare), the film will star Stone as King and Steve Carell – who's fantastic in The Big Short – as Riggs. For a month or two, Brie Larson (The Room) was rumored play King, but Variety reports a deal wasn't ever signed. Stone, on the other hand, is now officially attached to the project again after her schedule was reworked, allowing her the time to take part in Battle of the Sexes. The actress doesn't really resemble King, but that hardly ever matters. As long as she's good in the role and captures the tennis star's spirit, that's what matters most.Elizabeth Banks and Paul Giamatti are also set to star in an HBO movie about King and Riggs' tennis match, produced by Tom Hanks and Gary Goetzman. It would mark the actors' third collaborating, following the great Love & Mercy and the not-so-great Fred Claus. There hasn't been much movement made on that film, so if Searchlight beats HBO to the punch, we'll see if they continue developing the movie for the small screen.
And then the third movie about King and Riggs, Matchmaker, has Will Ferrell (who will be seen next month in Daddy's Home) in the lead role. Since the actor's Gary Sanchez banner is producing that project, it's fair to assume it's more comedic than what Dayton and Farris have planned for Battle of the Sexes, but we can't be sure. There's no word on when the directors will start principal photography, but it wouldn't be surprising if we see the film sometime later next year.