Oscar Isaac Eyes Political Thriller 'A Foreigner' From 'Me And Earl And The Dying Girl' Director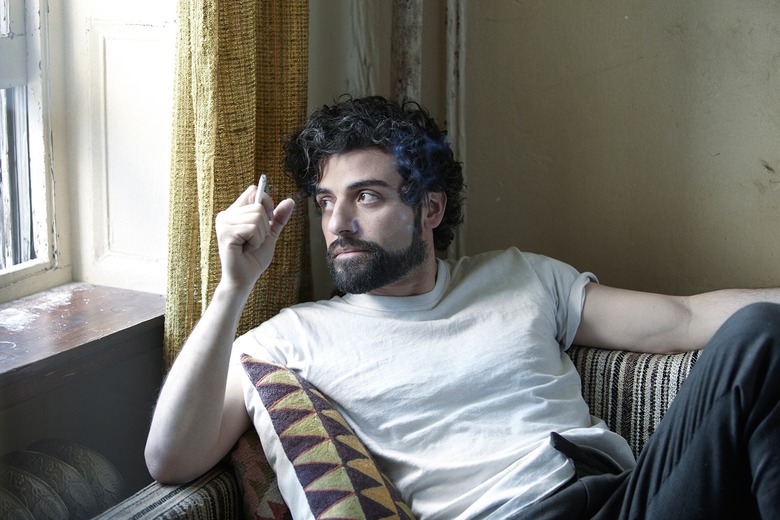 As excited as we are to see Oscar Isaac as Poe Dameron in next month's Star Wars: The Force Awakens – and as Apocalypse in next year's X-Men: Apocalypse — it's a relief to hear he isn't abandoning the kind of non-franchise dramas he built his reputation on in the first place. Isaac's next new gig looks likely to be A Foreigner, from Me and Earl and the Dying Girl helmer Alfonso Gomez-Rejon. 
Variety cautions that these aren't done deals. Isaac is in early talks, and Gomez-Rejon is still in negotiations as well. It's also unclear when the film would shoot, as Isaac will likely be busy with Star Wars Episode VIII for much of next year. But the outlook seems good, and both are apparently very interested in the project.
The political thriller is based on David Grann's 2011 New Yorker article "A Murder Foretold," which tells the tale of Guatemalan lawyer Rodrigo Rosenberg. After Rosenberg was killed in 2009, a video emerged that he had recorded before his death, accusing Guatemalan president Álvaro Colom of orchestrating his murder. The script is written by Chris Terrio, who followed up his Oscar-winning script for Argo with Batman v Superman: Dawn of Justice.
A Foreigner has been kicking around for a while already. At one point Paramount wanted Matt Damon to take it on as his feature directing debut. But things seem to be coming together quickly now. The studio leapt to offer Gomez-Rejon the film after he exited Collateral Beauty earlier this month, and around the same time started courting Isaac, who is Guatemalan-American, for the lead.
Isaac has been having a great year, even before the release of Star Wars: The Force Awakens. He starred with fellow Force Awakens cast member Domhnall Gleeson in Alex Garland's acclaimed Ex Machina, and over the summer led David Simon's new miniseries for HBO, Show Me a Hero. He was even the best part of the otherwise limp indie drama Mojave. And just recently he finished shooting Terry George's The Promise with Christian Bale, which should open sometime next year.
Gomez-Rejon's 2015 hasn't been too shabby either. The warm Sundance reception for his coming-of-age pic Me and Earl and the Dying Girl turned him from a relative newcomer (though a TV vet, Me and Earl was only his second film) to an in-demand name. He quickly booked Collateral Beauty, and when that one fell apart over "creative differences" he signed on for The Current War starring Benedict Cumberbatch and Jake Gyllenhaal.