'Midnight Special' Trailer: Is Michael Shannon's Son A Weapon Or A Savior?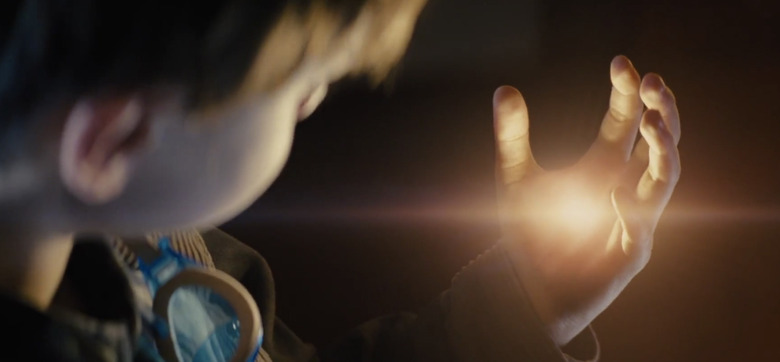 Director Jeff Nichols has delivered two rich, fantastic indies with Mud and Take Shelter, but now we'll get to see how he fares with a studio sci-fi flick, Midnight Special.
The film follows young St. Vincent star Jaeden Lieberher, a young boy who has mysterious supernatural gifts, forcing him and his father (Michael Shannon, because of course) to go on the run from agents who just don't understand his powers. We just got our first look at the movie this past weekend, and now the first Midnight Special trailer has arrived.
Here's the Midnight Special trailer from Fandango:
Am I the only one getting a slight Amblin vibe from this trailer, maybe with a bit of Powder thrown in there? There seems to be a little less whimsy than Steven Spielberg might inject into a story like this, but the grounded sci-fi angle really adds some weight to the proceedings. It might make Nichols' Midnight Special exactly what we all wanted J.J. Abrams' Super 8 to be. There's not much to decipher from this trailer since the story laid out is pretty vague, though it's just intriguing enough to get my attention.
Jeff Nichols behind the camera for a sci-fi movie is a good enough of a reason to check this one out, but the cast is also outstanding. Alongside Michael Shannon and Jaeden Lieberher in the leads, we've also got Kirsten Dunst, Joel Edgerton, Sam Shepard and Adam Driver.
Nichols described the movie like this to EW:
The son happens to have unique gifts. It's a weird word to use, but his gifts are, um, supernatural. Close Encounters of the Third Kind, E.T., Starman, they were my inspirations — very propulsive journeys that work when you can't predict what's going to happen next. This is my sci-fi chase film.
So it sounds like that Amblin vibe is definitely there on purpose, and Nichols didn't really give away anything more about the plot, opting to keep certain things about the story under wraps for the time being. Warner Bros. might have to give away a little more if they're going to convince general audiences to see the movie when it arrives on March 18th, 2016, but personally, I'm extremely interested in seeing with Nichols can do with an original sci-fi story.