'Fargo' Creator Noah Hawley Developing Kurt Vonnegut's 'Cat's Cradle' For FX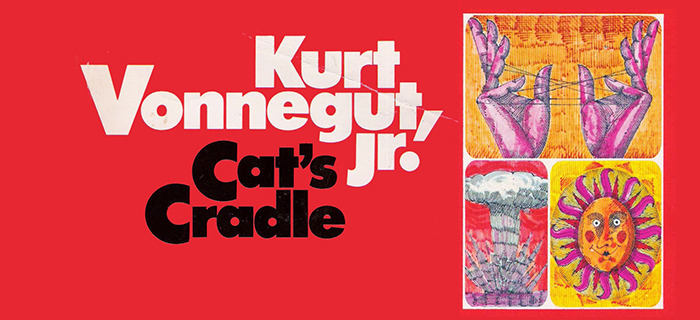 High off the success of Fargo, now in its second season, Noah Hawley has set his sights on another all-American classic of pitch-black comedy. Hawley and FX are developing on TV series based on Kurt Vonnegut's Cat's Cradle, a dystopian sci-fi tale that satirizes the Cold War arms race. More details on the Cats Cradle TV series after the jump. 
IM Global initially announced plans for a Cat's Cradle TV series in May, and the project is now moving forward with FX Productions producing. Hawley will write and executive produce the Cat's Cradle TV series as part of his two-year overall deal with FX. TheWrap reports Cat's Cradle will be a limited series, which makes sense — it's not the kind of premise you can sustain indefinitely.
In the broader sense, Cat's Cradle is about, among other things, the dangers of technological advancement, the purpose of religion, and the possibility of nuclear annihilation. Published in 1963, it reflects the concerns of the Cold War era, but its themes are still relevant today, and will be as long as science, war, and religion are around. So, you know, forever.
In typical Vonnegut fashion, those themes are bent and twisted into surreal yet resonant forms. The story follows a writer named John who gets involved with the children of the (fictional) co-creator of the atom bomb, and learns of a (fictional) crystalline form of water called ice-nine. The characters wind up on the fictional island of San Lorenzo, where the local population worships a strange religion with even stranger origins.
Vonnegut's voice is so distinctive, and Cat's Cradle so weird, that my immediate instinct is to worry that Hawley will screw it up. But no one thought a TV adaptation of Fargo really sounded like a good idea at first, either (well, no one besides Hawley and FX, at least), and Hawley's somehow managed to pull that off. That show's mix of bleak humanity and pitch-black humor suggest Hawley's sensibility could actually work pretty well for a Vonnegut adaptation.
Cat's Cradle is Hawley's third show with FX. Besides Fargo, he is also currently working on the X-Men-inspired Legion. The latter follows a troubled young mutant named David Haller (Professor X's son in the comics), who's been diagnosed as schizophrenic but comes to realize that the voices he's hearing might be real. Legion already has a pilot order and Hawley is writing and executive producing.