'Exposed' Trailer: This Case Isn't Bigger Than Keanu Reeves, It's Bigger Than All Of Us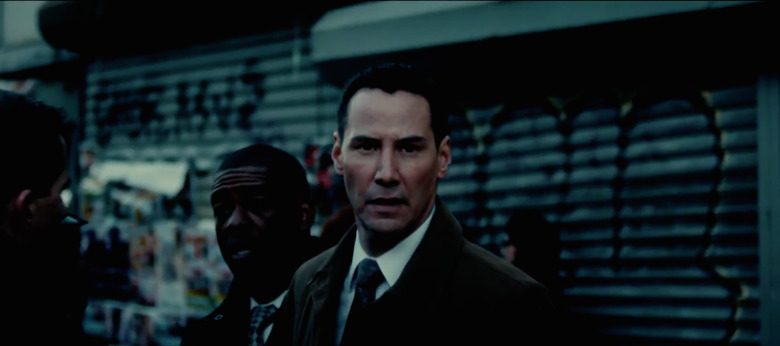 The past few years have been kind to Keanu Reeves. Since the disastrous 47 Ronin, the actor has picked up some quality projects. Reeves is currently shooting John Wick 2, and will soon be seen in Exposed. The latter film is without a release date and a distributor, but with Reeves in the starring role, it'll probably get scooped up soon.
After the jump, watch the foreign trailer for Exposed.
Exposed, originally titled Daughter of God, is directed by Gee Malik Linton. He's written and directed short films in the past, but interestingly enough, most of his IMDb page credits him as a physical trainer. Linton was a trainer for Tobey Maguire on Spider-Man and Anne Hathaway on The Dark Knight Rises. Can anyone else think of trainers that have gone on to direct feature films?
Here's the trailer for Linton's feature directorial debut:
Based on this footage, Exposed isn't some cheap directorial debut. The script must've been something else, because it's rare to see a director make their first feature at this scale, with a notable star in the lead role as well. The aesthetic has a nice grit and moodiness to it, and the strange happenings the girl (Ana de Armas) experiences add an unexpected surreal quality to the trailer. The title "Exposed" sounds like a standard cop movie, but with that imagery, Daughter of God appears more fitting for this story. The film is also shot by cinematographer Trevor Forrest, who recently worked on the Project Greenlight film The Leisure Class.
Reeves' involvement makes Exposed more promising. Following his awesome directorial debut, Man of Tai Chi, and John Wick, he's been joining some exciting projects. In the next year we'll see him in Nicolas Winding Refn's Neon Demon and Ana Lily Amirpour's follow-up to A Girl Walks Home Alone at Night, The Bad Batch. Knock Knock was a recent, minor misstep for the actor, but he was fun in the role. In Exposed, he reunites with his co-star from the Eli Roth film, Ana de Armas. De Armas was arguably the highlight of Knock Knock, and after her energetic performance in Roth's movie, I'm looking forward to seeing her give a more reserved, dramatic performance in Exposed.
Here's the official plot synopsis:
A detective searches for the truth behind his partner's death as mysterious occurrences begin to affect a local woman who claims to have witnessed a miracle.
Exposed is currently without a US release date.