Cool Stuff: Dorothy's The Color Of Cinema Print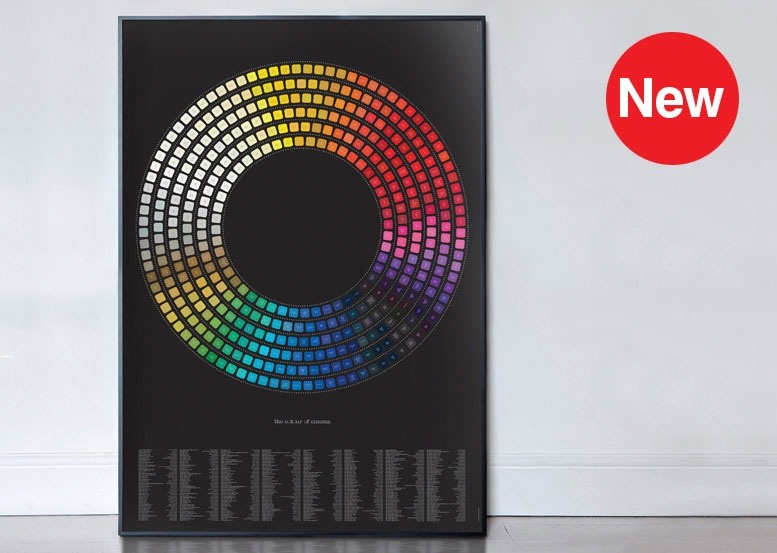 We've featured a few of UK-based design studio Dorothy's movie-inspired screenprints in past editions of "Cool Stuff," including their vintage-style LA street map featuring the names of over 900 movies, their beautiful golden age, modern day and horror star charts that feature hundreds of movies and actors graphed out in a star map. Those prints were very popular and this year Dorothy have returned with a vibrant new print titled "The Colour of Cinema" which is a "glorious 'technicolor' celebration of over 400 films which mention a color in their title" presented in a Color Wheel range.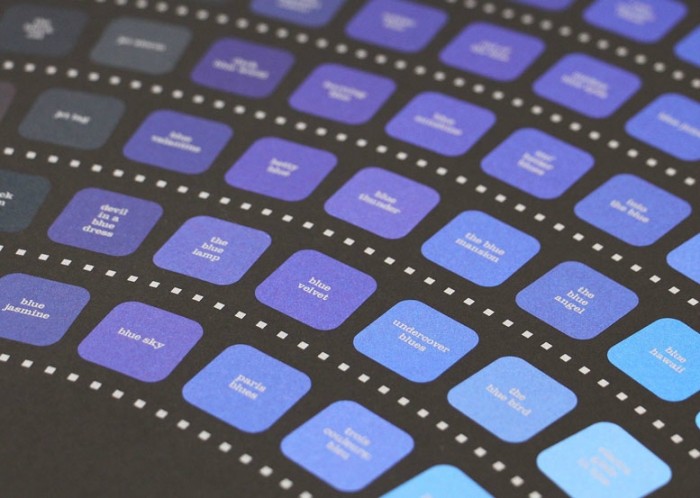 Dorothy's The Colour of Cinema print is currently only offered in one version: the Original Open Edition printed with 5 colors on 140gsm 100 x 70cm uncoated black paper.
The Colour of Cinema is the newest addition to our Colour Wheel range and is a glorious 'technicolor' celebration of over 400 films which mention a colour in their title. The print, which takes stlystic inspiration from a film reel features Academy Award nominees including: How Green Was My Valley (John Ford), The Red Shoes (Powell & Pressburger), The Man With The Golden Arm (Otto Preminger), A Clockwork Orange (Stanley Kubrick), On Golden Pond (Mark Rydell), Moulin Rouge! (Baz Luhrmann), Little Miss Sunshine (Dayton & Faris), La Vie En Rose (Olivier Dahan), Black Swan (Darren Aronofsky), Silver Linings Playbook (David O. Russell) and Zero Dark Thirty (Kathryn Bigelow).
And cult classics such as: The Red Balloon (Albert Lamorisse), Goldfinger (Guy Hamilton), The Blues Brothers (John Landis), Betty Blue (Jean-Jacques Beineix), Blue Velvet (David Lynch), Pretty In Pink (Howard Deutch), Jackie Brown (Quentin Tarantino), Eternal Sunshine Of the Spotless Mind (Michel Gondry) and The White Ribbon (Micael Haneke).
There's an A-Z key at the base of the print listing all 408 featured films, their directors and the year they were released.
The print is available now for £30 plus P&P.
I have a ton of pop culture artwork around the house, but I love pieces like these because they are simple, minimalistic, and don't look like just another movie print. And for those friends who look closer, they will discover the secret themselves and spend a few minutes looking at the various movies. At least this has been the case with the Street Map piece I bought from Dorothy years ago, which is hung in my bathroom (a place where people need something to look at and explore while... you know).