LOL: Stephen Colbert Blasts Star Wars: The Force Awakens Marketing Integration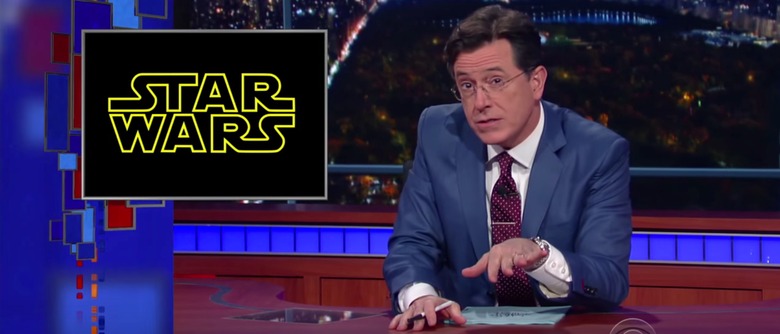 Stephen Colbert has a long history with Star Wars. He's defended that crossguard lightsaber, called out Star Wars creator George Lucas, and even attempted to guess the entire plot of Star Wars: The Force Awakens based on just the images in the trailer. While its clear Colbert is a Star Wars fan, he wasn't afraid to take on the evil empire last night on The Late Show with Stephen Colbert. In a segment on last night's show, Colbert blasted the brand's past and present pieces of ridiculous marketing integration, or more specifically Cover Girl's new line of Star Wars collection makeup.
"The forced marketing integration is strong with this one," remarked Colbert, who went on to mock the product: "They were previously available in containers that didn't say Star Wars!"
Watch the whole segment embedded after the jump.
Below you can watch the whole Star Wars Marketing Integration segment from last night's episode of The Late Show with Stephen Colbert:
Sadly, I'm so much of a Star Wars fanatic that I would probably buy Star Wars-branded eggs if Lucasfilm and Disney were to license their brand to one of the egg distributors. I mean, I wouldn't buy Star Wars eggs if I didn't need eggs, but you always need eggs, right? And who wouldn't want to crack BB-8 and Death Star eggs every morning while making breakfast?
And yes, I know this is completely the opposite of Colbert's viewpoint, but I see both the ridiculousness of such marketing integration and also the appeal. Hey, if I were a girl who wore makeup, I might just buy Star Wars-branded makeup — because why not?