Kurt Sutter And FX Axe 'The Bastard Executioner'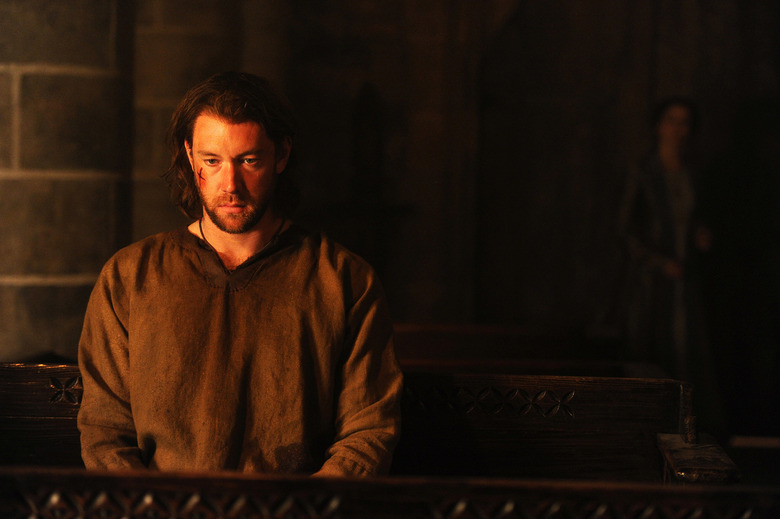 Kurt Sutter's The Bastard Executioner has, itself, hit the chopping block. The medieval drama has officially been canceled, after wrapping up its first (and now only) season earlier this month.The Bastard Executioner wasn't earning much in the way of ratings or critical buzz, so the news doesn't come as a total shocker. What is surprising is the way Sutter announced its cancelation — via a full-page ad in The Hollywood Reporter. See the Bastard Executioner ad, and read additional comments by Sutter, after the jump. 
Sutter bought a full-page ad in The Hollywood Reporter, because apparently full-page ads in The Hollywood Reporter are just how people in Hollywood communicate nowadays. You can check it out below via his Instagram.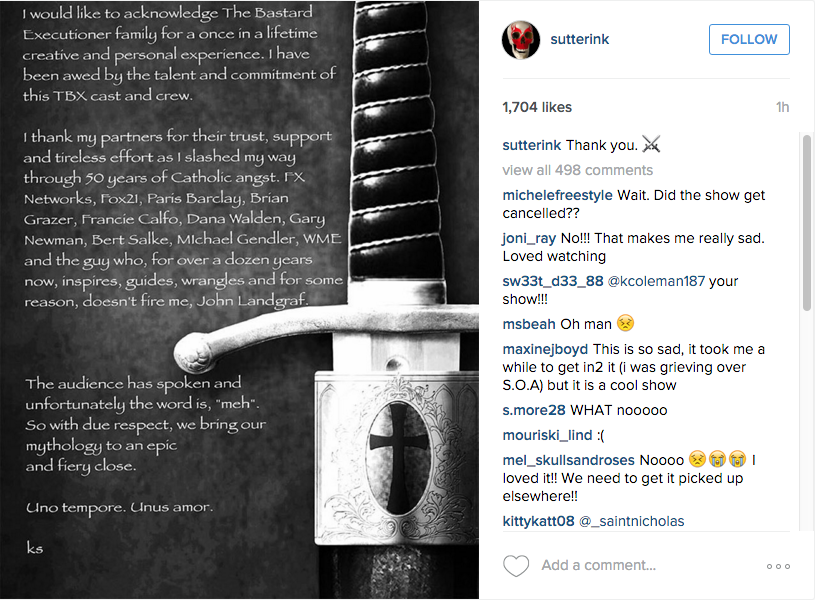 Canceling The Bastard Executioner was a joint decision made by Sutter and FX Networks CEO John Landgraf, but the THR ad was Sutter's idea. In an accompanying interview with the publication, Sutter revealed why. "I decided to post the ad just because I love this cast and crew so much," he said. "So this was about letting folks know what a great experience I had, and how proud I was of them." (Sutter did notify the cast and crew about the cancelation ahead of time via email.)
Sutter's previous show Sons of Anarchy was a huge hit for FX, gaining more followers every season to become the top-rated drama in the network's history. The Bastard Executioner has been, to put it mildly, less successful. It steadily lost viewers over the course of its first season, ending with less than half the numbers it premiered with. Sutter has some thoughts on what went wrong:
I think the mythology was a little too dense for some people. There's a glut of period pieces on right now, and I'm sure timing has something to do it. There's just so many f—ing variables involved in that formula. My sense is that a year from now, people will be like, "Why didn't you make more?" (Laughs.) I mean, I get so many people telling me they're on episode four of Sons.
While some artists profess not to care about ratings, Sutter admits he's not one of them.
I'm not the guy sitting in my ivory tower spitting shit out not caring if anyone is watching. I like an audience. I don't want to write something that nobody's f—ing watching. And yes, some of that is ego. But some of it is just, [if no one's watching] then I'm not necessarily doing my job.
But Kurt Sutter fans needn't mourn too long. He's already looking ahead to his next steps, including a Sons of Anarchy spinoff about the Mayans, which he says he'll only produce and not write. There's also his long-gestating film script Delivering Gen, which Sutter is trying to revive. And maybe most exciting of all, he already has a rough draft for another new TV show. Details are still under wraps, but Sutter teases that it'll be "contemporary," with "no horses involved."