Rumor: 'Justice League Dark' Has Found Its Villain And Is Tracking Down Its Heroes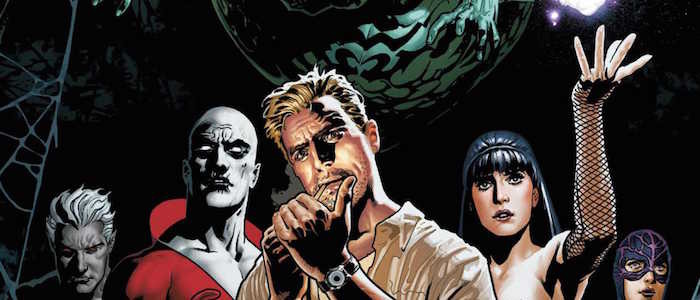 The mere fact that a Suicide Squad movie is coming out next year is proof that Warner Bros. isn't afraid to dip its toe into the weirder corners of the DC comic book world. And that's great news because the weirder corners of the DC universe are where the best characters tend to hang out. Forget about Batman and Superman and their dawn of justice – let's see the dark and magical likes of John Constantine and Deadman and Swamp Thing and Zantana team up on the big screen.
While we're bummed that Justice League Dark will no longer be a Guillermo del Toro joint, we're excited that it's still in the works and is still utilizing many of the characters and concepts from del Toro's screenplay. The film is far enough along in development that the names of certain actors and actresses are starting to come crawling out of the rumor mill. So who's in contention for Constantine, Swamp Thing, and Madame Xanadu? And who apparently the frontrunner to play villain Anton Arcane? Let's dive in.
The first part of this rumor comes from Heroic Hollywood, who say that character actor Ben Mendelsohn is the top choice to play Anton Arcane. Mendelsohn was recently nominated for an Emmy for his work in Netflix's Bloodline and he's currently filming Rogue One: A Star Wars Story, where he'll also be playing a villain. However, Anton Arcane isn't just any bad guy. He's Swamp Thing's arch-nemesis, a mad scientist who pushes the laws of nature and magic to their breaking points in his quest to achieve immortality. He commands armies of monsters and, when the need arises, can take on monstrous forms himself. He's a terrific character on the page and Mendelsohn is inspired casting.
However, Heroic Hollywood also notes that Mendelsohn will only sign on the dotted line once a director is on board.
The second report comes from Latino Review, who have had their fair share of accurate rumor reports in the past. Still, all of this should be taken a grain of salt or two. If there's truth to this, then we're looking at a wish list, not a sure thing. Anything can happen between now and whenever things get official.
First up is John Constantine, con-man, magician, and dabbler in the dark arts. Warner Bros. is apparently seeking a big name for this part and have approached Colin Farrell and Ewan McGregor, both of whom feel like excellent choices. Although the character has gotten his own movie (where he was played by Keanu Reeves) and his own TV show (where he was played by Matt Ryan), there has yet to be a definitive take on one of the best characters in the DC/Vertigo comics canon. Constantine is more than a collection of wisecracks in a trench coat – he's a deeply damaged expert into the occult who stumbles through his adventures on wit and luck, his rebellious attitude informed by his past as an young punk rocker. Farrell and McGregor, who can be incredible actors when given the right material, seem like rock-solid picks.
Latino Review says that whichever actor doesn't get Constantine may be considered for Jason Blood, the human shell that houses Etrigan, the rhyming demon. This character, so strange and darkly funny on the page, could be this team's supernatural riff on the Hulk.
For the role of Madame Xanadu, a mystic and sorceress who has led this team in the comics, Warner Bros. is supposedly eyeing the ageless Monica Bellucci, the incredible Italian actress who was last seen being completely and totally wasted in Spectre. If a major blockbuster event movie wants to properly utilize Bellucci's talents, this could be the role that does it.
And in "No, duh" news, del Toro apparently wanted Hellboy star Ron Perlman to play Swamp Thing and the studio still thinks that's the way to go. Depending on which story you're reading, Swampy is either a scientist transformed into a hulking plant monster or something far more cosmic and complex (see Alan Moore's stunning take on the character). In either case, the chance to see a proper take on this character, who was the star of several not-great movies and a stunningly awful TV series, is tremendous news.
For the role of Deadman, a ghost superhero who can possess any living thing, Warner Bros. is apparently seeking a comedic actor. For the role of the magic-using Zantana, a black or hispanic actress is being sought to bring some much-needed diversity to the line-up.
But none of this is locked down right now. Justice League Dark doesn't even have a director yet, although George Miller was rumored to take the job for a few minutes. Still, the fact that we're even talking about a movie starring these characters should make a comic fan giddy. What an age we live in.