'How To Be Single' Trailer: Rebel Wilson Helps Dakota Johnson Navigate The New York City Dating Pool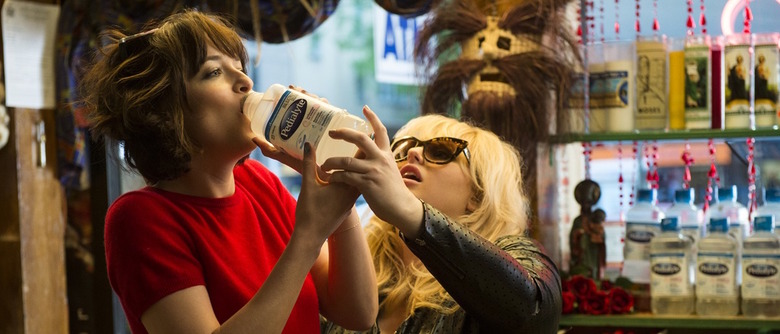 Dakota Johnson basically owned Valentine's Day weekend this year, and those inevitable Fifty Shades of Grey sequels mean she's got Valentine's Day 2017 and 2018 locked in as well. But for Valentine's Day 2016, she's going to try to dominate the box office without the aid of whips and chains.
How to Be Single stars Johnson as newly single gal Alice, who is trying to navigate the New York City dating scene with some help from her much savvier pal played by Rebel Wilson. Alison Brie, Leslie Mann, Jake Lacy, Damon Wayans Jr., Anders Holm also star. Watch the How to Be Single trailer after the jump. 
The How to Be Single trailer below comes to us from Warner Bros. UK.
What with its sprawling cast, intersecting storylines, and grand proclamations about the rules of modern-day dating, How to Be Single looks a bit like an updated version of He's Just Not That Into You. Turns out there's a reason for that: How to Be Single is based on a novel by Liz Truccillo, who co-wrote the self-help book that inspired He's Just Not That Into You.
Alice somehow looks even worse at dating than the virginal Anastasia Steele. (To paraphrase Retta in Parks & Recreation, Alice might be Nell, from the movie Nell.) But Fifty Shades proved Johnson could do funny and charming even when playing against an angsty block of wood, so a traditional romcom seems like a logical next step for her.
Meanwhile, Lacy continues his run of playing normal men who fall in with, and get befuddled by, awkward women in New York City (see also Obvious Child, Girls, and even Carol). And Wilson might just be playing a better-dressed version of her man-eating character from Pitch Perfect. In other words, this probably won't be the movie to challenge any preconceived notions you have about these actors. Or about romantic comedies. Or about dating in New York City.
But hey, sometimes you just want some easy, familiar comfort food. And besides, if you're looking for a traditional romcom on Valentine's Day weekend next year, you're SOL otherwise — your only other wide-release options are Deadpool and Zoolander 2.
How to Be Single arrives February 12, 2016. Christian Ditter directed.
There's a right way to be single, a wrong way to be single, and then... there's Alice. And Robin. Lucy. Meg. Tom. David. New York City is full of lonely hearts seeking the right match, be it a love connection, a hook-up, or something in the middle. And somewhere between the teasing texts and one-night stands, what these unmarrieds all have in common is the need to learn how to be single in a world filled with ever-evolving definitions of love. Sleeping around in the city that never sleeps was never so much fun.