Interview: 'The Night Before' Director Jonathan Levine Wants To Speak To An Audience Through Music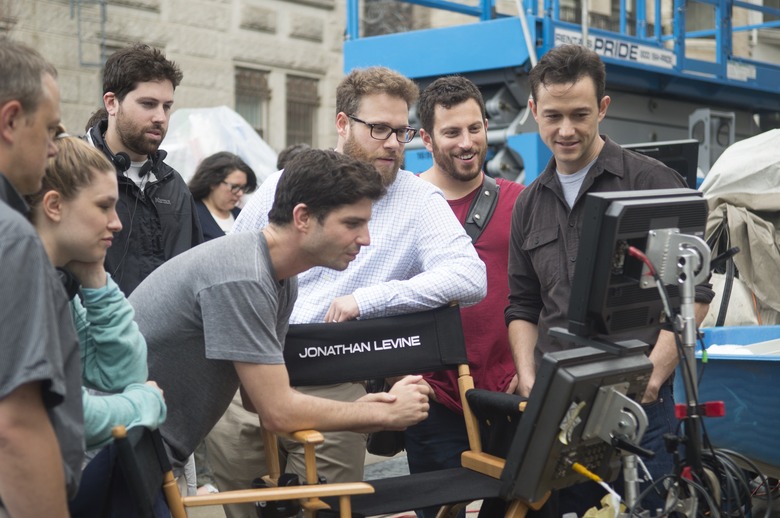 The Wackness wasn't Jonathan Levine's directorial debut, but it was the first film we saw from him. Following the long-delayed All the Boys Love Mandy Lane, Levine wrote and directed the coming-of-age film set in the early '90s. The Wackness was packed with music of its time, with no shortage of Biggie songs, and lots of old classics, such as Donovan's "Season of the Witch." Levine's love for music, and his knack for using music to tell a story, rang loud and clear in The Wackness.
Over the years he's continued to use music rather effectively. As famous as some of the songs are in his films, they never distract from the emotional or comedic beats they're serving. The Wackness, 50/50, Warm Bodies, and the director's newest film, The Night Before, are packed with great tunes. Levine's Christmas comedy features plenty of cheerful holiday music, but there are also some modern hits that play a major part in the story. There's a Miley Cyrus performance, for example, that is more than a cameo.
At the junket for The Night Before – which stars Seth Rogen (Steve Jobs), Joseph Gordon-Levitt (50/50), and Anthony Mackie (The Hurt Locker) — we decided to discuss with Levine his love for music and why he chose certain songs over the course of his career. Read our Jonathan Levine interview after the jump.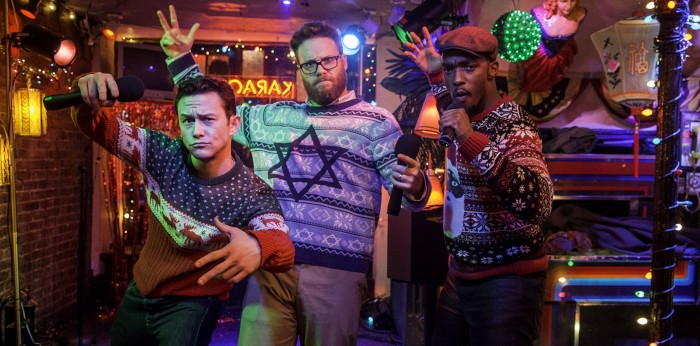 What makes a great soundtrack? What kind of feel did you want The Night Before's to have?
To me, using music is creating a shorthand with an audience. And I love music so much. I'm always walking around with headphones on, creating my own soundtracks to whatever the day is. I think I have a poppy sensibility. This movie especially is a very poppy movie and meant to be a very crowd-pleasing movie.
And so, there are a lot of Christmas songs that are just that. They are just happy, melodic, upbeat. But the other big thing about Christmas, and the other big thing about Christmas movies and Christmas music, is it can also be a little bittersweet and melancholy because it's like the end of the year. It's winter. There's something kind of a bit reflective about Christmas.
So I love the kind of juxtaposition of those two energies. The Wackness is stoner movie, but the character is smoking weed because he has problems that he's dealing with. It's like when you look at the Biggie songs in that movie, for example, there's a great beat and you can bob your head to it, even dance to it sometimes. But he's talking about really messed up stuff.
For me, a great song is kind of generally pretty poppy and you kind of get it right away. But it also has that kind of melancholy edge to it sometimes.
What are some of your favorite soundtracks?
There's so many great ones... Coming Home has a great soundtrack.
It's impossible not to cry at the end with that Tim Buckley song, "Once I Was."
Oh, God, dude. Yeah, that Buckley song is incredible. These are kind of lame, but these are the ones in college I would listen to, like Pulp Fiction and Boogie Nights. Those are just so good. And the other big thing I should say about a soundtrack is it has enough songs you know and in introduces you to new music, too. Certainly Boogie Nights and Pulp Fiction did that for me.
Fuck, man. What else? There's obviously '80s, like Footloose is a great soundtrack. Purple Rain is probably the best soundtrack. Saturday Night Fever... those are kind of the obvious, but they are obvious for a reason. They are so great. And they are all different types of music, all different kinds of musical palettes. What else has a great soundtrack? Straight Outta Compton, which is one of my favorite movies I saw this year. That was an incredible soundtrack.
Quentin Tarantino is probably the master of this, and P.T. Anderson, too. It's like counterpoint, musical counterpoint. Not that many people do it anymore, but I think that Django had a great soundtrack, too. He's the the best at that kind of thing. And Django had that Jim Croce song. That was probably my favorite musical moment in the last 5, 10 years, with that song "I Got a Name." Do you remember that montage?I do.
It's great. I was like, "Oh, I kinda know Jim Croce, but I know the big Jim Croce songs." And that was a little bit of a less well-known Jim Croce song, or to me it was. But you're like, "This is a cool song and it's a beautiful moment." And it just perfectly kind of captures the feeling that you are supposed to feel.
That's the great thing about music, too, is it's a very quick shorthand to give you a feeling. So the two Darlene Love songs we use in The Night Before, they just remind me of Christmas and they put me in a time and a place. And I like the way that you can have that time and place and your own personal experience interact with what's going on with the characters in the movie.
I want to mention a few songs you've used over the past few years. 
Let's do it.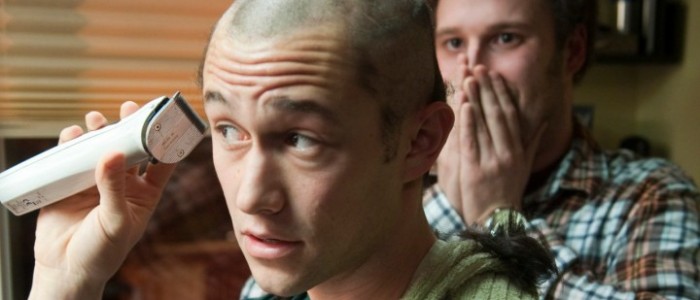 For starters, the Liars' "The Other Side of Mt. Heart Attack" in 50/50 hits you really hard, before Adam (Joseph Gordon-Levitt) goes into surgery.
That's one of the very few I can take no credit for, except for the fact that I saw it and was just like, "Whoa." That was Zene Baker, our editor, who edited The Night Before and 50/50. Just like first cut I came in and it was just like it was there. He looped it and it just built such tension.
I remember being on set that day. And it was a late night when we were doing the scene with Joe saying goodbye to his parents. Man, it was one of the few times I was overcome with emotion, just being on set watching it. And usually Seth and Evan [Goldberg] will hang out, pitch jokes or whatever. They just saw that and they're like, "We're going to go." This doesn't happen that much, but we all recognized it was no time to try to inject levity into it. We were just completely overcome by the emotion of the moment and the reality of the moment.
You'd think somebody thought of that song ahead because it fits so well, but it's interesting to hear that choice wasn't made until post-production.
And it's not a band that I knew. I don't know where he got it or where it came from. That's why he's such a brilliant editor. It perfectly underscores the tension of the moment and the release of that moment when she hugs him and she won't let go.
I have a hard time getting excited about stuff that I've done. I certainly had a hand in that part, but to me that scene is so much Zene's editing, the music, Joe and Anjelica [Huston]'s acting, and Will [Reiser]'s writing. So I don't feel like I'm too shy to tell you I like it.
Did you have Radiohead's "High and Dry" and Roy Orbison's "Crying" in mind before shooting?
No. Usually what happens is, I sometimes have the editors make a QuickTime, which in this day and age you are really not supposed to do because anything can get leaked on to the internet or whatever. But I have them make a QuickTime and I'll go home and I'll just go into my iTunes and I'll put the QuickTime up and I'll just start playing s***. That'll happen over a weekend.
To me that's like playing a video game, just trying different music against images. I'll just bring it to the editor and just be like, "I thought five of these worked." And they can edit it and see if it works. "High and Dry" worked pretty well right from the beginning. We weren't struggling with that area, but it has a hard downbeat and it came in right on that shot in the window and just pops out. It's like energetic but super fucking sad.
And then "Crying," that's an example of that counterpoint. It's a triumphant moment, but that song is playing pretty ironically. And Roy Orbison, just that voice and that kind of soundscape is so cool.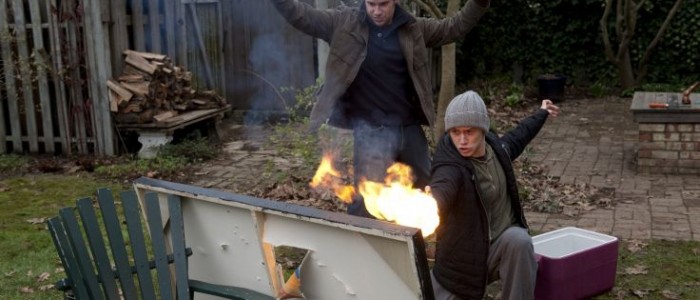 Have you ever had a song in mind from the beginning and then you got to post and you thought, "This isn't working"?
I have s*** that I just write in and it just doesn't work. That happens very often. But that's fun, too. As a director, your expectation and reality don't always match up, and I think that that's... I think it's a little jarring. But then you can kind of reclaim it by actually finding the right moment or embracing the fact that it doesn't fit, the song that you wanted, and embracing a new song.
I would write songs into stuff all the time and just be like, "That totally sucks. Why did I put that in there?" There was a song that you reminded me of in 50/50... Oh, it was the last song. It was that Pearl Jam song, "Yellow Ledbetter." That was one where we just could not figure it out. It was at the very end and we were a little over budget because it's not an expensive movie. Michael Giacchino had scored the movie, and obviously he's the best composer. He had scored it, but he was like, "Yeah, take it or leave it. I don't know." For that moment, it just wasn't what we wanted.
Then I played the Pearl Jam song and Anna's like, "Oh, s***. That's awesome!" But then Eddie Vedder had just gotten married and he was on his honeymoon and we were finishing and he was away. Somehow we got in touch with him and managed to clear it at the very, very last minute. But that's a case of literally just pulling a rabbit out of a hat at the very, very last minute. I'm so glad we did, because you live with that. You live with a movie forever.
In the case of The Night Before, "Wrecking Ball" and "Runaway," since they both play an integral part in the story, were those there from the beginning? 
"Runaway" was always there. When I say always there, I mean about two months before I was like, "I have a really cool idea." And I came to Seth and Evan... it's obviously fitting the tropes of a holiday movie, but we're kind of engaging in a dialogue with '80s movies, in a way, and that kind of era of movies where it was meant to be very crowd pleasing and fun for an audience. That's just something I grew up on.
50/50 is much more a '70s movie in that way. I think this is a full '80s... or at least I hope it's in the spirit of those movies. So I was like, "Let's do the big thing." But with that Kanye song, they all really liked it, so that was always in there. Everyone kind of got that idea right from the beginning.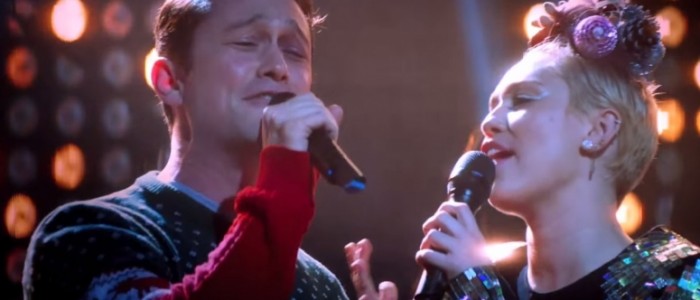 And then "Wrecking Ball," I really love that Bangerz album, like a lot. We were trying to get an artist for that scene. We knew it needed to be a big, big cameo. James Weaver, who is one of the producers, had said that Miley was really into Seth's comedy, not surprisingly. I was like, "She's awesome. We should do our best to get her." We all got on a phone call with her and she was lovely. And that all worked out. And then we got "Wrecking Ball." We would add a bunch of "Wrecking Ball" stuff. All the references to "Wrecking Ball" were kind of improv-ed. Yeah, I love the way it works in that scene.
[SPOILERS FOR THE NIGHT BEFORE AHEAD.]
Joe's friend who did Auto-Tune the News came up with the whole interstitial part of the proposal and how it blended into "Wrecking Ball" and stuff like that. He kind of wrote that line where he says, "Hard like a wrecking ball." So we just integrated it into the story and the dialogue as much as we could.
That song, to me, works so well, especially because it has that little bridge for the proposal and then it comes back in hard. I just was really into it. And I'm just into Miley's music. And her new album is pretty cool, too.
[END SPOILERS FOR THE NIGHT BEFORE.]
Two last songs for you. "Can't You See" in The Wackness is great, and then also "Sealed with a Kiss" in Mandy Lane.
That one's cool. When we were done with Mandy Lane, I was really into Austin. I just had such a nice time in Austin that I asked our editor... this was like we were all 25. And it was just film school friends. I could just ask the editor, "Hey, do you want to come down to Austin and edit here?" Which, in retrospect, was a terrible idea, because we didn't have any money. We had two Final Cuts and we just both started fucking around.
I'm trying to think of who came up with that song, whether it was him or me, or whether it was even in the script. I don't know. But I remember the first time I saw it. I was like, "That's such a cool tonal, weird thing." Again, it's bittersweet. It reminded me sort of a David Lynch kind of thing. That's what's cool about horror movies is you can just throw a bunch of s*** in. It's like you can be so proud of yourself for being clever at how you combine tones. And horror movies, even more than comedies, you have the most freedom to do crazy stuff. So, to me that, tonally, your job as the director is to fuck with the audience.
It's, in this weird way, the song is empowering her. It's not happy for her, but it's definitely not judgmental, which is the other great thing about horror movies, is you are literally... the people do get punished for their transgressions. But, at the end of the day, it's a very kind of judgement-free zone. And I think that that's really fun as a filmmaker, too, is this visceral moment of underscoring this murderous girl with a song that's going to make you kinda tap your feet.
That answer is kind of all over the place. But it's hard to even intellectualize why it works. You just get a weird adrenaline rush from doing something like that. It's just also such a kinda cool song. That's one of the ones I really, really like.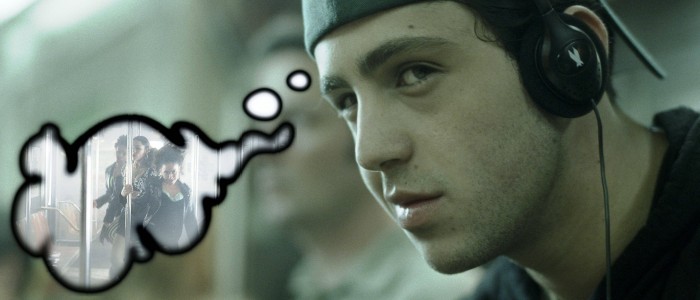 And what about the use of Biggie in The Wackness?
Biggie was written into the movie from the beginning. There was this movie coming out at the time called Notorious, which was the biopic about Biggie. Slightly less successful than the N.W.A. biopic. But they kinda c**k-blocked us on a bunch of Biggie music. They didn't want us to have... "Everyday Struggle" was written into the first Method Man scene, which I had to replace with "The What?," which had [The Wackness co-star] Method Man in it. I wasn't super psyched about that, but it was fine.
I can't remember what was under that scene on the rocks. But "Can't You See" was a song that I wasn't super familiar with. It was one of the ones that wasn't in Notorious, so we could get it. I just remembered listening to it and thinking it's kind of a romantic Biggie song. Like, it's really, really cool.
That's one of those instances where the song you wanted you can't get, and the one you replace it with is just way better. That scene to me is one of my favorite scenes in the movie, and it's because there's a hook to it. It's because there's a melody to it. And not a lot of Biggie songs have exactly that. So that ended up being really fun.
***
The Night Before is now in theaters.