It's A Little Scary: How Universal Plans To Resurrect Their Classic Monsters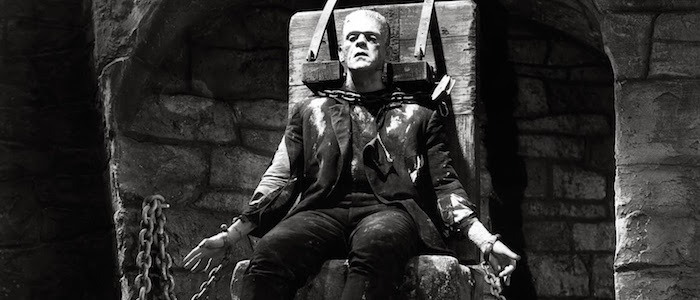 At their best, the classic Universal monster movies are masterpieces. At their worst, they remain fascinating windows into long-gone era. Taken together, they are an untouchable library of iconic characters, brilliant moments, and smart filmmakers making the absolute most out of what should have been schlock. Frankenstein, Dracula, The Mummy, The Wolf Man, The Invisible Man, and the rest of their companions represent the high water mark of horror. Everything else chases them.
And Universal knows this. They know that their studio (currently nearing the end of a landmark year) was built on a foundation of horror movies. They know that these characters are a vital part of their legacy. They know that they're due for a resurrection and have been taking their sweet time quietly constructing a series of reboots that will return the monsters to the screen. Now, details of how they're approaching these reboots have begun to trickle out online, and it's like watching someone handle precious relics – the people involved may be smart, but you're still nervous as hell.
Read on for more details on the Universal monsters reboot.
Variety has an excellent article offering updates on the whole Universal monster reboot project, which will begin with The Mummy on March 24, 2017. From there, other iconic characters will follow in short order, with the article directly naming Dracula, Van Helsing, Bride of Frankenstein and the Wolf Man. Donna Langley, chairman of Universal Pictures, confirmed that they will all inhabit a Marvel Studios-style shared universe:
The characters will interact with each other across movies. We're incubating it at the moment, and we're taking the time to get it right.
This is the concept that has been ruffling feathers for a few years now. Sure, the monsters have shared the screen in the past (usually to do battle, of course), but it's hard to imagine this concept supporting horror movies. Action/adventure movies, perhaps, but it could be hard to maintain a monster's mystique when he's always chilling out with other monsters. The big concern here has always been whether or not producers Chris Morgan and Alex Kurtzman, who are overseeing the whole new monsters universe and the many writers currently penning screenplays, will transform these characters into superheroes.
Morgan, the screenwriter best known for transforming the Fast and Furious movies from a handful of hit-and-miss racing flicks into a surprisingly cohesive and bombastic action series, had this to say about the universe they're building:
This is not a heightened world. We're exploring issues of family identity and questions of, 'Where do I belong in the world?
Kurtzman, the writer/producer with as many hits (Lost, Fringe, Star Trek) as misses (Transformers: Revenge of the Fallen, The Amazing Spider-Man 2, Star Trek Into Darkness), explained their process of building a new world:
We're creating a mythology, so we're looking at this canon and thinking, 'What are the rules?' What can we break and what are the ones that are untouchable?
Variety says that their research has involved carefully examining all of the original Universal monster movies,  as well as a select few Hammer horror movies. Which is just a sign of good taste, really. May we also recommend a splash of Roger Corman's Edgar Allan Poe adaptations?
Nothing Morgan and Kurtzman says there feels incorrect or wrongheaded. In fact, them recognizing the monsters as lost, tormented characters looking for a place in the world is a big deal and of utmost importance. Them slavishly researching the original films isn't even as important as recognizing that. The simple fact of the matter is that we're not going to be entirely sold on this until The Mummy (which Kurtzman will direct) arrives and is, hopefully, good. But here's hoping. There is nothing we'd love more than to see some good Universal monster movies again. After all, nothing they cook up can be as bad as Van Helsing, right?
And surely they've decided to fully strike Dracula Untold from the record, right? Right?!
We'll leave you with this one final quote from Morgan, which is equally inspiring and terrifying:
Heroes tend to be perfect, but most people in an audience aren't ever going to know what it's like to be the smartest, strongest or fastest person alive. But there's a darkness inside everybody. And everyone wants to be able to turn a curse into empowerment. The monsters have been in the shadows, and now it's time to bring them out into the light.
Yes, the relatable darkness of Frankenstein's monster and the Wolf Man is what makes them. That is on point. But hopefully, turning a curse into "empowerment" doesn't mean getting the horror-tinged Avengers, with these characters deciding to use their powers for good. Because that would be truly scary.