Tina Fey And Amy Poehler To Host 'Saturday Night Live' Together In December, Chris Hemsworth Too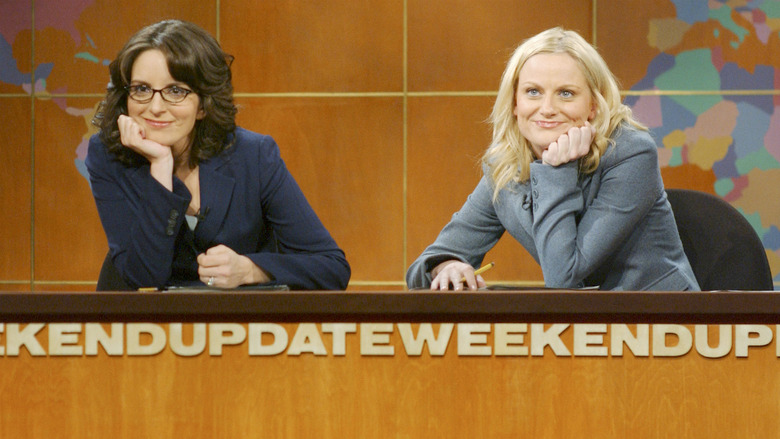 We've got one more episode of Saturday Night Live left in November with Matthew McConaughey taking the stage of Studio 8H as host (Elizabeth Banks just hosted this past weekend for a great episode), but it looks like December is going to send the sketch show out of 2015 with a bang.
Tina Fey and Amy Poehler will be hosting the final episode of the year on December 19th – just in time to promote their comedy Sisters, which is going up against Star Wars: The Force Awakens to serve as counter-programming for those who don't care about Jedi or Wookiees. And joining them will be the Boss himself, Bruce Springsteen, as musical guest.
But they're not the only ones hitting SNL in December. A Marvel superhero and a gifted driver will be hosting as well.
Kicking off three episodes over three weeks in a row will be Ryan Gosling, the future star of Blade Runner 2 and past star of Drive. He will host for the first time on December 5th with musical guest Leon Bridges also debuting on the show. Gosling has The Big Short coming out on December 23rd, and very rarely have we seen him venture into comedy, so seeing him do sketch comedy will undoubtedly be interesting
Then the week after, Thor franchise star Chris Hemsworth hosts for a second time on December 12th, the same weekend his nautical drama In the Heart of the Sea hits theaters. Chance the Rapper will be joining him as musical guest, but we'll be looking out for any other Marvel co-stars to make an appearance. After all, Robert Downey Jr. was a cast member once upon a time, but he hasn't returned since 1996.
But of course, the real exciting news is the return of Fey and Poehler to Saturday Night Live. Fey and Poehler were a great duo on Weekend Update, and having them hosting together on SNL should be a real treat, but their time as political rivals as Sarah Palin and Hillary Clinton in the 2000s was one of the best periods of SNL in recent memory.
However, I hope they don't force the return of Palin and Clinton if it's not necessary, especially since the former is out of the spotlight for the most part now and the latter is played by Kate McKinnon these days. It would just feel forced.
If you're wondering whether or not SNL has had two hosts at the same time on the show before, the answer is yes. Here are the duos who have hosted SNL together before:
Peter Cook and Dudley Moore
Danny DeVito and Rhea Pearlman
The Smothers Brothers
Richard Benjamin and Paula Prentiss
Rick Moranis and Dave Thomas
Beau Bridges and Jeff Bridges
Mr. T and Hulk Hogan
George Wendt and Francis Ford Coppola
Catherine Oxenberg and Paul Simon
Anjelica Huston and Billy Martin
Joe Montana and Walter Payton
Alec Baldwin and Kim Basinger
Jessica Simpson and Nick Lachey
Mary Kate & Ashley Olsen
SNL hasn't booked double hosts as often as they used to in the early years, with the last double host being Mary Kate & Ashley Olsen back in 2004. There was even one time around the release of Three Amigos when Chevy Chase, Steve Martin and Martin Short all hosted the show. So while Poehler and Fey aren't making history as the first double hosts, they are the first duo to both be former cast members of Saturday Night Live, and that's pretty great.
We'll have reviews of all these episodes after they air, so stay tuned.