First 'Gods Of Egypt' Trailer Looks Just As Crazy And Nonsensical As Those 'Gods Of Egypt' Posters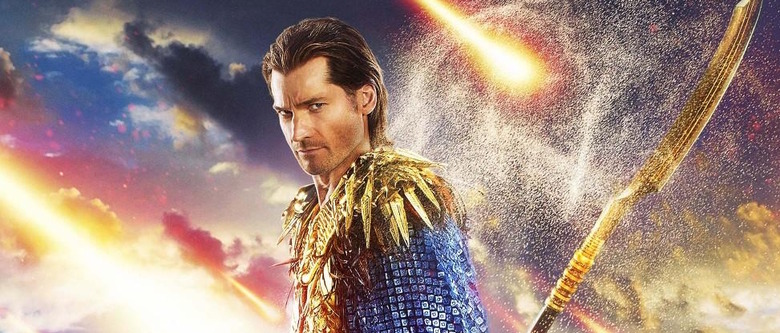 Alex Proyas' Gods of Egypt made quite an impression with those first-look character posters, but perhaps not exactly the impression it'd hoped to make. Based on those images, the fantasy epic looked awfully gaudy, even Lisa Frank-y, and frankly kind of cheap. But character posters don't tend to be the best representation of a movie anyway, so the more reasonable among us tried to reserve judgment until a real trailer came out.
Well, that trailer is finally here, and it does not, in fact, look like a Lisa Frank drawing come to life. (For one thing, there aren't nearly enough unicorns or rainbows.) So what does it look like? Find out for yourself after the jump.
The embed below comes to us from Entertainment One UK.
If those character posters left us wondering "WTF?" the trailer leaves us asking the question again, louder this time, while also scratching our heads. Gods of Egypt looks like total nonsense. Which isn't necessarily a bad thing! I'll take messy, ambitious nonsense over yet another Lord of the Rings ripoff any day. This looks like someone tossed Jupiter Ascending, 300, and Exodus: Gods and Kings into a blender, and then tried to remake the results at a fraction of the cost.
Magic, monsters, gods and madness reign throughout the palaces and pyramids of the Nile River Valley in this action-adventure inspired by the classic mythology of Egypt. With the survival of mankind hanging in the balance, an unexpected hero takes a thrilling journey to save the world and rescue his true love. Set (Gerard Butler), the merciless god of darkness, has usurped Egypt's throne, plunging the once peaceful and prosperous empire into chaos and conflict. With only a handful of heroic rebels opposing Set's savage rule, Bek (Brenton Thwaites), a bold and defiant mortal, enlists the aid of powerful god Horus (Nikolaj Coster-Waldau) in an unlikely alliance against the evil overlord. As their breathtaking battle against Set and his henchmen take them into the afterlife and across the heavens, both god and mortal must pass tests of courage and sacrifice if they hope to prevail in the spectacular final confrontation.
Gods of Egypt arrives February 26th. Get to know the many Gods of Egypt and a couple of non-Gods through the eye-searingly colorful character posters below.