Val Kilmer Will Chomp Those Teeth Again, Back As Iceman For 'Top Gun 2'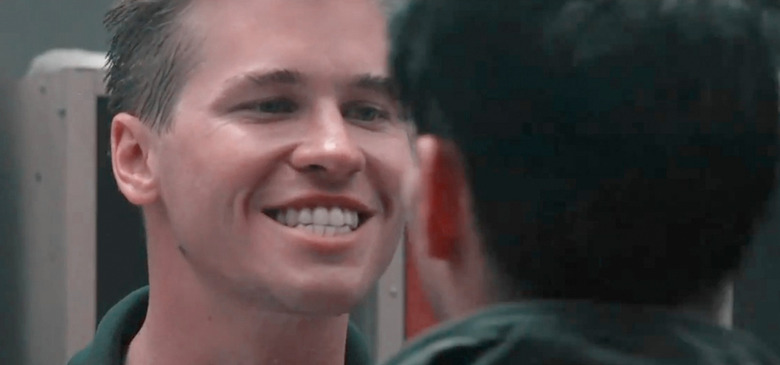 A sequel to the fighter jet action thriller Top Gun has been gestating for years, but the project hit a snag a few years ago when director Tony Scott tragically passed away. But when Jerry Bruckheimer struck a new deal at Paramount Pictures, Top Gun 2 was part of the deal, and last year Justin Marks was hired to write the script.
Now it seems like the project is moving along as Val Kilmer took to Facebook last night to reveal that he's been offered the chance to reprise his role as Iceman in the sequel, and he quickly accepted.
Here's what Val Kilmer posted on Facebook late last night:
I just got offered #TopGun2 – not often you get to say "yes" without reading the script...
"It's starring Gene Hackman..."
"Yes" "The director is Francis Coppola..." "Yes!"
Jerry Bruckheimer and Tom Cruise!!! "Yes." We will all miss Tony Scott one of the kindest gentlemen I've ever met in the film biz, but let's fire up some fighter jets again!!!
There was a bit of confusion following this update, because some people thought Kilmer meant that Gene Hackman was coming out of retirement to star in Top Gun 2 and Francis Ford Coppola would be directing. But Kilmer followed up with another post later saying that those were just other examples of the kind of projects you immediately say yes to without even thinking about it. All things considered, I feel like Kilmer really shouldn't be saying no to a lot of projects at this point in his career, but that's just me.
As far as we know, the story is still supposed to be about pilots struggling to remain relevant in a world when wars can be fought by technologically advanced drones. And it ends up being up to Maverick (Tom Cruise) and now Iceman (Kilmer) to show them that a remote controlled drone can't shake a stick at their fighter pilot skills.
We haven't gotten confirmation that Cruise will be back as Maverick yet, but Bruckheimer has previously said that there's no Top Gun 2 without him. Plus, earlier this year Cruise did talk a bit about the developing sequel. He was really optimistic about returning, and also promised that there would be real fighter jets used again:
If I can figure it out, if all of us can figure it out, it'd be fun to do, I'd like to fly those jets again, but we got to do all the jets practical, no CGI on the jets... I'm saying right now no CGI on the jets. If we can figure all that out, and the Department of Defense will allow us to do it, that would be fun.
If Paramount has Val Kilmer joining Top Gun 2 now, maybe the project is moving closer to becoming a reality. But the question is who will direct now that we no longer have Tony Scott? My vote goes to Justin Lin. What do you think?