'Agent Carter' Season 2 Reveals Premiere Date; Peggy Carter Hits Sunny So Cal In First Image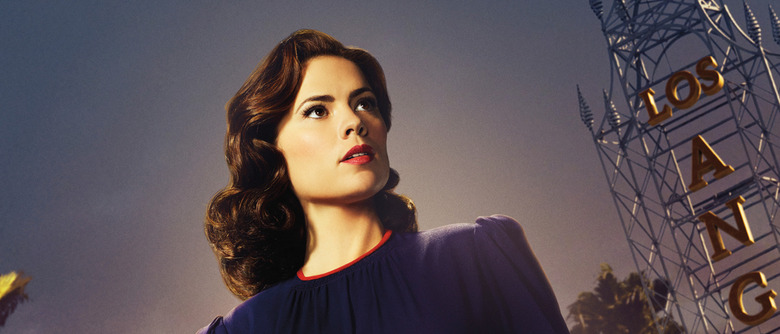 It's hard to believe 2015 is almost over, but don't get too bummed out. The new year brings new seasons of all your favorite shows, and one of the first to return will be ABC's Agent Carter. As it did last year, the Marvel series will take over as the midseason replacement for Agents of S.H.I.E.L.D. But there are a few big changes coming to the show as well, starting with its location — Season 2 sends Peggy Carter (Hayley Atwell) to sunny Southern California.
Get the Agent Carter Season 2 premiere date and synopsis, and check out a lovely first-look photo, after the jump. 
As announced by ABC, Agent Carter's second season will kick off Tuesday, January 5 at 9/8c with a special two-hour premiere. Agents of S.H.I.E.L.D. will reclaim the Tuesday night timeslot for the second half of its third season starting March 8. Here's the synopsis for Agent Carter Season 2:
"Marvel's Agent Carter" returns for a second season of adventure and intrigue, starring Hayley Atwell in the titular role of the unstoppable agent for the SSR (Strategic Scientific Reserve). Dedicated to the fight against new Atomic Age threats in the wake of World War II, Peggy must now journey from New York City to Los Angeles for her most dangerous assignment yet. But even as she discovers new friends, a new home – and perhaps even a new love – she's about to find out that the bright lights of the post-war Hollywood mask a more sinister threat to everyone she is sworn to protect.
Agent Carter Season 2 brings back James D'Arcy as Edwin Jarvis, Enver Gjokaj as Daniel Sousa (now an SSR chief), and Chad Michael Murray as Chief Jack Thompson. Dominic Cooper and Bridget Regan will once again guest star as Howard Stark and Dottie Underwood respectively. Alas, there's no word yet on whether Lyndsy Fonesca will reprise her role as Peggy's BFF Angie. Tara Butters and Michele Fazekas return as showrunners.
Fresh faces include Wynn Everett as Whitney Frost (a.k.a. Madame Masque), Ken Marino as crime boss Joseph Manfredi, and Lotte Verbeek as Ana Jarvis, plus Kurtwood Smith, Reggie Austin, and Currie Graham.
Based on the Agent Carter Season 2 first look photo below, it sure looks like Los Angeles agrees with our English rose. Peggy's swapped out that floppy red hat for a pair of big red shades, and her future at the SSR looks very bright indeed.