Matthew McConaughey Circles Stephen King's 'The Dark Tower'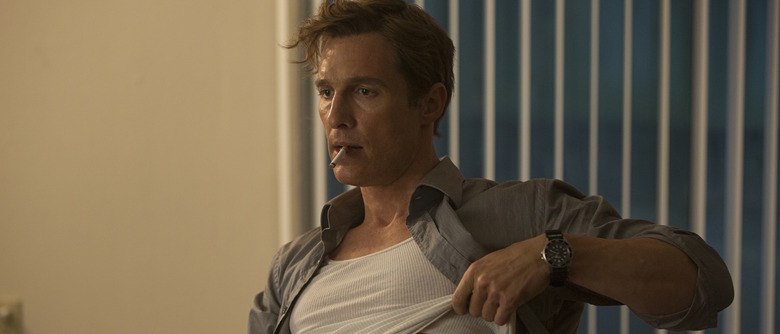 Nikolaj Arcel's The Dark Tower may get some A-list star wattage. Matthew McConaughey is reportedly circling the Stephen King adaptation, which is intended as the start of a sprawling franchise spanning multiple films and a companion TV series. More on the potential Matthew McConaughey Dark Tower casting, including details on the character he might play, after the jump.
According to THR, McConaughey is looking to play the villain known as the Man in Black in Arcel's The Dark Tower. The trade cautions that McConaughey's possible involvement is still in the early stages. Though he met with Arcel earlier this month, he has not yet entered formal negotiations. It's unclear at this point whether McConaughey would play the role in both the film and TV installments. 
The Dark Tower unfolds in an alternate, fantasy version of the Old West that's full of magic. At the center of the story is Roland Deschain, a gunslinger on a quest to find the Dark Tower which is the nexus of all universes. Trying to thwart him is a demonic sorcerer known, among many other names, as the Man in Black. The character has appeared in several of King's works including The Stand, which is being developed into a TV and film franchise by Warner Bros. and CBS; McConaughey was actually rumored for the role in the Stand movie way back when.
Producers Akiva Goldsman, Ron Howard, Brian Grazer, and Erica Huggins have been trying for years to adapt King's The Dark Tower for the screen. The project was set up at Universal, then flirted with Warner Bros. before moving to its current home, Sony. The Dark Tower has always attracted the attention of high-profile stars. Javier Bardem was attached to play Deschain at one point but fell away when the project switched studios. 
Last seen in Christopher Nolan's Interstellar, McConaughey recently wrapped Stephen Gaghan's Gold and Gary Ross' The Free State of Jones. He is one of the few big-name actors left in Hollywood without a franchise under his belt, but The Dark Tower would change that. Sony has The Dark Tower set to launch January 13, 2017, which means we should be getting some more casting updates — McConaughey-related or otherwise — in the not-too-distant future.