Good News, Everybody: Julianne Moore And Todd Haynes Are Reuniting For 'Wonderstruck'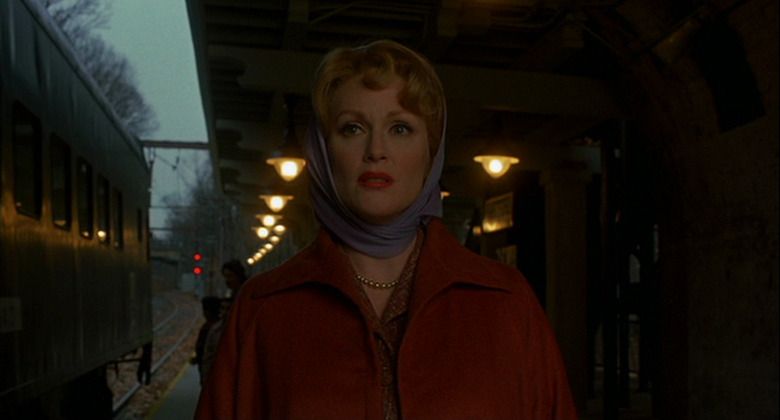 Director Todd Haynes and Julianne Moore have made two great movies together. They first collaborated 20 years ago with Safe, an unnerving drama/horror movie. Years later the director and actress worked together on the deeply beautiful Far From Heaven, but that was the last time the two collaborated. After a 13 year wait, Haynes and Moore are joining forces once again for an adaptation of Brian Selznick's "Wonderstruck."
Learn more about the project after the jump.
Deadline reports the actress and director will reunite for the project. There's no word on a script or financing, so Wonderstruck must be in very early stages of development. The last adaptation we saw of Selznick's work was Hugo, which director Martin Scorsese did wonders with. There's such specificity to the drawings in Selznick's worlds, and Haynes, like Scorsese, is the kind of director who can bring those drawings to life.
Here's the official synopsis for Wonderstruck:
Playing with the form he created in his trailblazing debut novel, The Invention of Hugo Cabret, Brian Selznick once again sails into uncharted territory and takes readers on an awe-inspiring journey. Ben and Rose secretly wish their lives were different. Ben longs for the father he has never known. Rose dreams of a mysterious actress whose life she chronicles in a scrapbook. When Ben discovers a puzzling clue in his mother's room and Rose reads an enticing headline in the newspaper, both children set out alone on desperate quests to find what they are missing. Set fifty years apart, these two independent stories — Ben's told in words, Rose's in pictures — weave back and forth with mesmerizing symmetry. How they unfold and ultimately intertwine will surprise you, challenge you, and leave you breathless with wonder. Rich, complex, affecting, and beautiful — with over 460 pages of original artwork — Wonderstruck is a stunning achievement from a uniquely gifted artist and visionary.
It's been over eight years since Haynes had a feature film released in theaters. He made an adaptation of Mildred Pierce for HBO, but I'm Not There is Haynes' last theatrical release. The long wait comes to a close this Friday, though, as the director's latest, Carol, starring Cate Blanchett (The Curious Case of Benjamin Button) and Rooney Mara (Ain't Them Bodies Saints), opens in limited release, and it's an excellent movie any fan of Haynes should embrace. Fingers crossed we won't have to wait eight years to see Wonderstruck or another picture from the director.