'Life' Trailer: Robert Pattinson Wants To Find Something Beautiful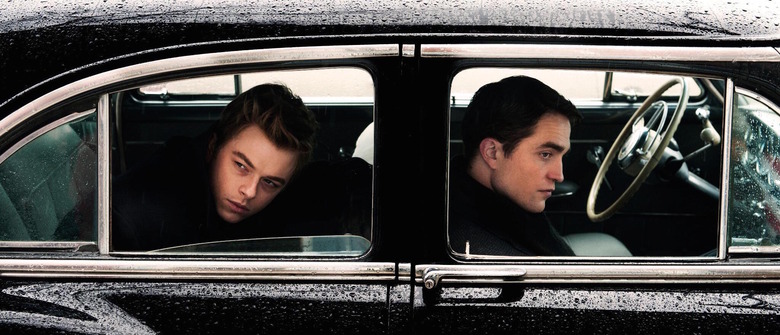 Anton Corbijn's Life has been flying under-the-radar the past few months. We saw a trailer for the film back in August, but Corbijn's bio film didn't generate much love or awards talk at any festivals. Then again, the director's second feature film, The American, was hidden from critics and loathed by plenty of moviegoers, and that movie is a terrifically sparse thriller. Corbijn is taking on a very different story with his newest film, though.
Watch the Life trailer after the jump.
Written by Luke Davies and directed by Corbijn, Life follows photographer Dennis Stock (Robert Pattinson) and his relationship with James Dean (Dane DeHaan), a star on the rise. A year before the actor's death, Stock is assigned to take photos of the actor for Life Magazine. Life also stars Joel Edgerton (The Gift), Ben Kingsley (The Walk), and Alessandra Mastronardi (To Rome with Love).
Life will undoubtably draw comparisons to this year's The End of the Tour, a very, very good movie also about a journalist and his troubled subject, David Foster Wallace (Jason Segel). Both films are more about the interviewer than the interviewee, or at least that's the impression you get from the Life trailer. With the period setting, the moviemaking aspect, and Anton Corbijn directing, we shouldn't expect to see the same story again, though.
Corbin, an acclaimed photographer and music video director, is well suited for this material. Control, The American, and, to an extent, A Most Wanted Man, follow loners. In the director's first two films, the protagonists' jobs weigh heavily on them, which also seems to be the case with Life. Corbijn is famous for his striking visuals, but he also has a firm grasp on character and drama. A Most Wanted Man is mostly characters talking in rooms, and it was suspenseful and dramatic. Life looks fairly dialogue-heavy, and I'm sure Corbijn found a way to make those exchanges cinematic.
Here's the official plot synopsis for Life:
Corbijn's follow-up to A Most Wanted Man, Life captures the nuances and complexities of the relationship between photographer and subject in a way rarely seen or understood by someone outside the business. In a nod to Corbijn's own past experience, the film is told from the perspective of the Life photographer Dennis Stock (played by Pattinson) who meets and profiles Dean (DeHaan) for the magazine, turning out some of Dean's most iconic photographs.
Life arrives on December 4th in theaters and on iTunes.