Do You Love Black Out Days And No Free Parking? Universal Studios Hollywood Announces Annual Passes For You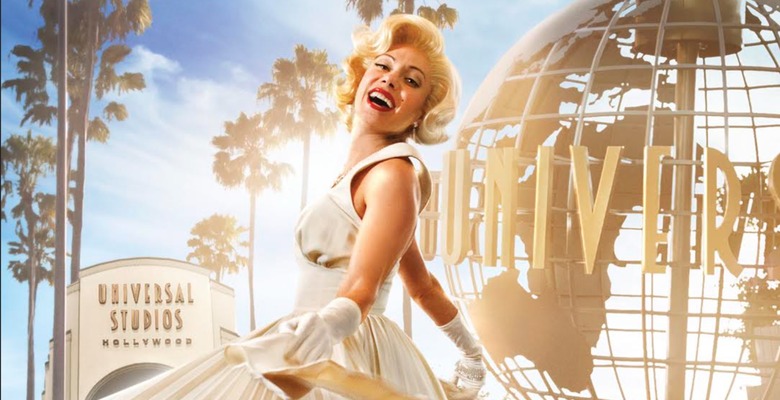 I'm a Disneyland-fanatic but I'm not one of those hardcores that hates on Universal Studios at every turn. I actually like Universal, and specifically their Studio Tour in Hollywood (although it needs some updates), their 4D Transformers ride and the incredibly detailed immersive experience they have created with Harry Potter. Last month Disney fanatics were sent into a tizzy when the Mouse House announced that they were raising the prices of Annual Passes, including the top pass with no black out days being raised 35% to $1049.
And we expected Universal Studios to raise their prices, especially considering The Wizarding World of Harry Potter will be making its way to the west coast in Spring 2016. But I don't think anyone would have expected them to announce three new annual passes, none of which allow full 365 day access to the parks and free parking privileges. Weekends during the Summer are blocked out even on the most expensive passes. Find out the details on the 2016 Universal Studios Hollywood Annual Passes, after the jump.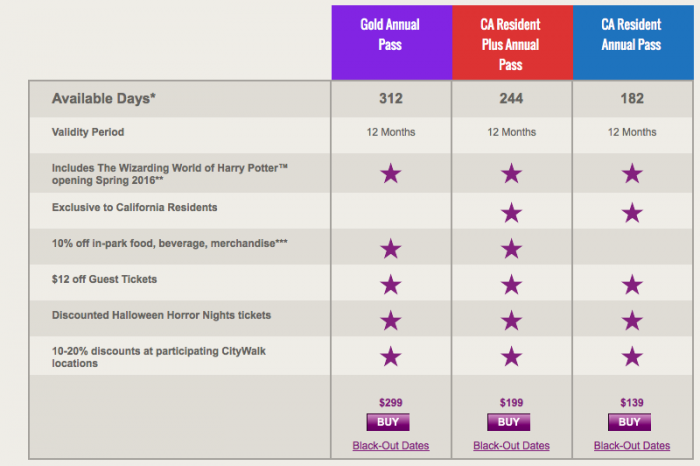 Here are the details on the three annual passes being offered by Universal Studios Hollywood:
The Gold Pass is $299 and includes 312 "select days of fun." Yes, this means there is no pass with no black out days — this pass has a lot of Christmas-time and almost every Saturday after The Wizarding World of Harry Potter blocked out.
The California Resident Plus Pass costs $199, and "invites members to enjoy 244 select days of fun."
And The California Resident Pass is the cheapest option at $139, which "includes 182 select days of fun."
None of the passes include free parking, which currently runs $18 per visit at the Universal parking center. Every major theme park offers parking at their highest tier of annual pass, so this is a precedent that I'm sure will follow at Disneyland Resort in the years to come. To be honest, this is something I think Disney should do rather than add more black out days. The parks are finding themselves too crowded with Annual Passholders on busy days and I think if Disney didn't offer a free parking option it could convince enough Annual Passholders from making too many regular visits to the park.
Disney was criticized for replacing the Premium Pass with the $370 more expensive Disney Signature Plus Pass, which essentially meant that if you wanted a pass to include the two week holiday block it would cost you a $300 premium compared to the pass below it. Universal has essentially avoided a ridiculously priced 365-day pass by not even offering the option to guests.
Previously Universal Studios Hollywood was offering 2015 annual passes with no blackout dates for $159, and Knotts Berry Farm has a no blockout date pass for $141.
Here is the full press release below:
Universal Studios Hollywood Introduces Three All-New Annual Passes Providing Insider Benefits, Exclusive Perks and Access to The Entertainment Capital of L.A. over a 12 Month Span
Gold Pass and Two California Resident Passes Featured
Universal City, California, November 16, 2015 – In celebration of Universal Studios Hollywood's five year epic transformation that has substantially altered its familiar footprint to essentially define it as an entirely new destination, The Entertainment Capital of L.A. is rolling out three all-new Annual Pass ticket options, inviting guests to visit the theme park as if for the very first time.
Effective immediately, new Annual Passes will provide guests with an array of privileges reserved for passholder membership, including access to Universal Studios Hollywood over a 12 month period to enjoy the park's compelling thrill rides and attractions, including "Fast & Furious: Supercharged" as the grand finale to the world famous Studio Tour, "Transformers: The Ride 3D" and "Despicable Me Minion Mayhem," as well as the much-anticipated "The Wizarding World of Harry Potter™" when it opens in Spring 2016.
Each new Annual Pass member will embark on an exciting journey with Universal Studios Hollywood receiving regular newsletter updates, exclusive preview event invitations, discounts on food and merchandise, eligibility for sweepstakes opportunities that include the chance to win tickets to coveted Hollywood red carpet movie premieres, and more.
The Gold Pass, available for $299, includes 312 select days of fun. The California Resident Plus Pass, available for $199, invites members to enjoy 244 select days of fun, and the California Resident Pass, available for $139, includes 182 select days of fun. To learn more about the Annual Passes options, please visit www.UniversalStudiosHollywood.com/tickets.
Additional information is available at www.UniversalStudiosHollywood.com. Like Universal Studios Hollywood on Facebook and follow @UniStudios on Instagram and Twitter.
Universal Studios Hollywood, The Entertainment Capital of L.A.SM, includes a full-day, movie-based theme park and Studio Tour; the CityWalk entertainment, shopping and dining complex, the Universal CityWalk Cinemas and the "5 Towers" state-of-the-art outdoor concert venue. World-class rides and attractions include the renowned, behind-the-scenes Studio Tour featuring the intense "King Kong 360 3-D" attraction and the all-new "Fast & Furious—Supercharged" thrill ride as the Studio Tour's grand finale. Other popular rides include the 3D-HD adventure, "Despicable Me Minion Mayhem" and immersive "Super Silly Fun Land," the critically-acclaimed mega-attraction, "Transformers™: The Ride-3D," "Revenge of the MummySM—The Ride," "Jurassic Park® —The Ride," "Springfield," hometown of America's favorite TV family, adjacent to the award-winning "The Simpsons RideTM" and the "Nighttime Studio Tour" which runs on select evenings.