'Snow White' Spinoff 'The Huntsman' Gets New Title, New Synopsis, And New Posters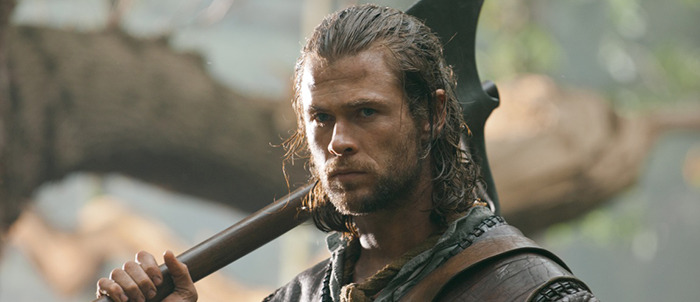 Universal ditched the Snow White half of Snow White and the Huntsman some time ago, but the Huntsman will be back next year headlining his very own movie. And as of today, that movie has a new title, a new synopsis, and four first-look promotional images.
The Huntsman: Winter's War has dished out four new character posters featuring Chris Hemsworth, Charlize Theron, Emily Blunt, and Jessica Chastain, or, as I think of them, "Thor and three people the internet wishes would play Captain Marvel." Get your The Huntsman first look after the jump. 
Universal unveiled the Huntsman first look on Twitter.
Character posters aren't always the best way to get a feel for the film. They tell you next to nothing about the plot, offer little sense of the director's visual style, and feature zero dialogue or music. Their purpose is to convey a general idea of the film's tone and genre, while reminding you that the film in question is full of movie stars you like. In short, it's impossible to draw any firm conclusions about the quality of this or any other film from a handful of heavily Photoshopped images.
All that said, until we get some trailers or stills from The Huntsman: Winter's War, we only have these character posters to go on. And these character posters are kind of terrible. Chastain looks like she's in one of Gemma Arterton's castoffs from Hansel and Gretel: Witch Hunters, and Blunt looks like she's doing terrible Frozen cosplay. Theron and Hemsworth get off a little bit easier, since they just look like they're back in the same costumes from the first film.
Universal has also served up the first official Huntsman synopsis, which does not do a whole lot to discourage the notion that Blunt is doing Frozen cosplay.
Long before the evil Queen Ravenna (Theron) was thought vanquished by Snow White's blade, she watched silently as her sister, Freya (Blunt), suffered a heartbreaking betrayal and fled their kingdom. With Freya's ability to freeze any enemy, the young ice queen has spent decades in a remote wintry palace raising a legion of deadly huntsmen — including Eric (Hemsworth) and warrior Sara (Chastain) — only to find that her prized two defied her one demand: Forever harden your hearts to love.
When Freya learns of her sister's demise, she summons her remaining soldiers to bring the Magic Mirror home to the only sorceress left who can harness its power. But once she discovers Ravenna can be resurrected from its golden depths, the wicked sisters threaten this enchanted land with twice the darkest force it's ever seen. Now, their amassing army shall prove undefeatable... unless the banished huntsmen who broke their queen's cardinal rule can fight their way back to one another.
So The Huntsman: Winter's War takes place both before and after the events of Snow White and the Huntsman, it seems, which makes Stewart's absence seem all the more mystifying. Then again, Stewart probably doesn't mind — she's been plenty busy earning the best reviews of her career in films like Clouds of Sils Maria and Still Alice, thank you.
Nick Frost is back as one of the dwarves, as is Sam Claflin as Snow White's friend William. Rob Brydon, Alexandra Roach, and Sheridan Smith join the cast as some more dwarves. First-time feature filmmaker Cedric Nicolas-Troyan takes over the director's chair, replacing Rupert Sanders.The Huntsman: Winter's War arrives April 22, 2016.