'Jessica Jones' Clips: You Know David Tennant Is The Bad Guy Because He Steps On A Kid's Toy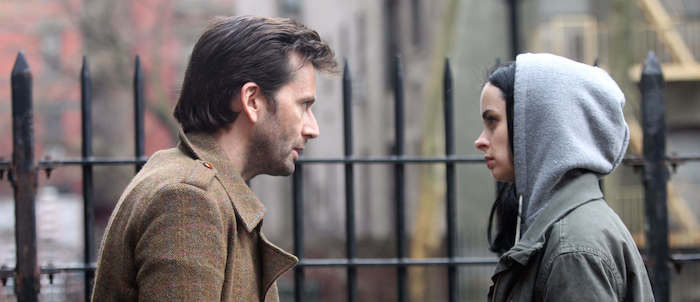 Marvel's new Netflix series, Jessica Jones, will drop its first season this Friday, November 20, 2015. The source material is terrific. The trailers have been great. Early reviews have been promising. Yes, we will be binge-watching the whole thing and returning with some cool coverage for you to enjoy on the following Monday.
But that's all days away. So you can eat up some precious seconds of waiting time by sitting back and enjoying these new clips from the series, which place the focus on David Tennant's villainous Zebediah Kilgrave, a.k.a. the Purple Man, a Marvel baddie with the ability to force others to do whatever he says.
You want to check out those Jessica Jones clips after the jump. Go ahead. No one is forcing you to click that using dark, psychic abilities. Nope. Not at all. Just click. Click.
Loosely based on the beloved Marvel comic Alias by writer Brian Michael Bendis and artist Michael Gaydos, Jessica Jones follows the titular character (Krysten Ritter) as she retires from a brief superhero career to pursue a life as a private investigator. Without delving too deep into spoiler territory, let's just say that her time as a superpowered vigilante was derailed by Kilgrave, who reduced her to a hard-drinking, emotionally troubled mess. He may not be a particularly famous Marvel villain, but you can get a taste of this guy's terrifying powers in the clip below, where he literally makes himself at home in a stranger's apartment:
This version of Kilgrave does't look a thing like his comic book counterpart, who earns his "Purple Man" nickname because his skin is literally purple. And while the show has done away with his slightly silly but oh-so-creepy look, it seems to have maintained the important details... like him being a total creep whose powers effectively removed any and all respect he has for the dignity of other human beings.
You can see him at work in this clip as well, where he uses his abilities to manipulate a poker game in his favor:
Tennant, who is best known for his hugely popular stint on Doctor Who, looks to be bringing the perfect mix of charm and ruthlessness to this character. Between this and Vincent D'Onofrio's killer take on the Kingpin in Daredevil, it looks like the Marvel Netflix shows are getting all of the good villains that the Marvel movies so desperately need.
Jessica Jones also stars Mike Colter, Rachael Taylor, Carrie-Anne Moss, Eka Darville, Erin Moriarty, and Wil Traval. Melissa Rosenberg and Liz Friedman are running the show. And man, it sure does look like a cool show.