'Body' Trailer: 'Twas The Night Before Christmas And Oh-My-God That's A Dead Body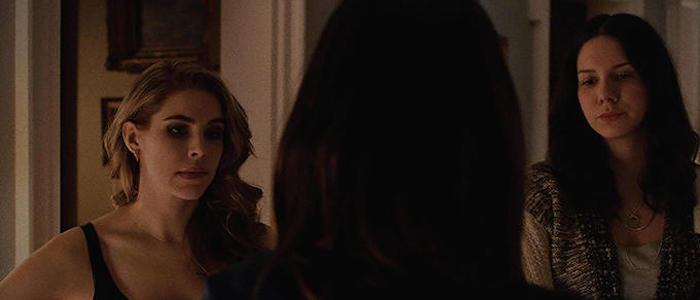 The holiday movie season is typically defined by family-friendly fare, stuff that you and mom and dad and grandma and grandpa and your cousins and nephews and nieces can go enjoy together. But what about the lonely cynics who spend the season alone and would like to let some darkness into their hearts every December?
Don't worry. Hollywood has got you covered. This year's holiday counter-programming looks to be Body, the newest release from the folks at Oscilloscope, and it looks like the kind of anti-Christmas thriller that will help keep your dark, shrunken heart at appropriate Grinch levels. Don't let the greeting card companies win!
Watch the Body trailer after the jump.
Body, which premiered earlier this year at the Slamdance Film Festival, is the feature debut of writer/directors Dan Berk and Robert Olsen and it's one of those clever, low-budget premises that shows a great deal of premise. In a nutshell: three friends (Helen Rogers, Alexandra Turshen, and Lauren Molina) decide to spice up a boring Christmas Eve by breaking into an empty mansion. However, their illegal yuletide partying comes to an abrupt end when a man arrives at the house, gets in a scuffle with one of the women, and ends up being the lifeless body of the film's title. You can tell this is a real indie horror movie because the body is played by genre veteran Larry Fessenden, one of those great character actors who is seemingly willing to work for a hot meal.
For a long time, horror fans could always count on a genre movie being released on or near Christmas. It was a constant thing. While the movies were almost always terrible and were getting dumped as a last-minute attempt to squeeze some extra dollars out of catering to audiences who had no interest in holiday blockbusters, there was something comforting about it. You could always escape your family and go see a horror movie around Christmas. And then it stopped happening and the world became a lesser place.
So whether Body is good or not (the trailer makes it seem like a tense, clever little movie) is beside the point. The point is that a dark and nasty little thriller is arriving to cut through all of the carols and celebrations and eggnog and all is right with the world.
Here is the official synopsis for the film:
A darkly funny and twisted journey taking place entirely on one unforgettable Christmas Eve, Body revolves around a trio of college co-eds whose dalliance with breaking-and-entering goes horribly awry. Sneaking off to a secluded mansion to party, the young girls are faced with dire choices after they unexpectedly encounter the property's groundskeeper. Following a freak accident, the girls find themselves entangled in a Hitchcockian nightmare steeped in tension, suspicion, double-crossing, and murder, where no one is to be trusted and a new twist lies around every corner.
Body hits select theaters on December 29, 2015 and will roll out further in January.