A Disney And Pixar Short Film Festival Is Kicking Michael Jackson Out Of Walt Disney World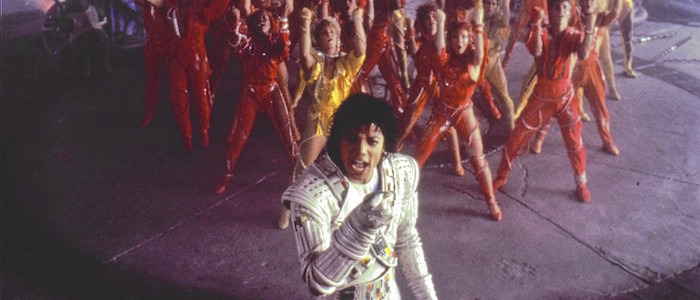 When Captain EO returned to Disney theme parks around the world in 2010, everyone assumed it was a temporary thing, a quick buffer to capitalize on renewed interest in star Michael Jackson following his death. And then the bombastic, not-especially-good 3D musical short film (originally introduced into the parks in 1986) stuck around for five and half years like some kind of horrible rash for which there was no ointment.
Until now. It has been revealed that Captain EO is officially on its way out at Disney World's Epcot park, where it will be replaced by a "Disney and Pixar Short Film Festival." That's not as exciting as an actual, proper new attraction, but as far as desperate stop-gaps go, it's solid one... and it certainly beats more of Michael Jackson battling evil with the power of dance. If programmed well, this is a show that could play very well.
More on Epcot's new Disney and Pixar Short Film Festival after the jump.
The announcement arrived on the official Disney Parks Blog, where it was confirmed that the Disney and Pixar Short Film Festival will take over the Magic Eye Theater inside the Imagination Pavilion at the Epcot theme park at Walt Disney World in Orlando, Florida. Although this space has housed Captain EO for the past half-decade, it is best known for being the former home of the Honey, I Shrunk the Audience attraction, which traumatized younger Disney guests from 1994 through 2010.
The Disney blog post also states the inevitable: the shorts will be part of a "4D" experience where viewers wear 3D glasses and get water and smoke and air blasted at them at the appropriate moments. The exact opening date of the attraction isn't specified, but the Disney and Pixar Short Film Festival is expected to begin in December, so the turnaround on this one is going to be fast (Captain EO says farewell and good riddance on December 6, 2015).
What remains unknown is the exact make-up of the festival. The blog post says that guests will be treated to three different Disney and Pixar animated shorts, but it doesn't specify whether or not it will be the same three shorts every time or if the line-up will always be changing. If the computers powering the new version of Star Tours can randomly create a new adventure every time guests get on the ride, then surely a randomized, unique line-up of short films drawn from the dozens of movies available in the Disney and Pixar libraries is possible. After all, there is probably limited value in showing Frozen Fever a couple dozen times a day. Or maybe not. Kids sure do love their Frozen and Disney sure does love moving their Frozen merch.
In any case, the shorts that do play will most certainly skew toward the more recent. As cool as it would be to see the older Disney shorts from decades past converted into 3D and given the full theme park treatment, the modern CG-animated shorts will require less effort. Since this whole thing sounds like another attempt to keep this space full until Disney Imagineers can figure out what they actually want to do with it, don't expect anything too flashy.
Just make sure Presto is part of the line-up, high-ranking-Disney-parks-official-who-is-reading-this-for-some-reason. We'll forgive you for leaning on Frozen Fever if you just continue sharing this short with the world: