'Silence' First Look: Liam Neeson Stars In Martin Scorsese's Passion Project
Sadly, the 2015 awards season will be devoid of a film from iconic director Martin Scorsese. But the good news is that his next film is a long-gestating passion project, the adaptation of Shûsaku Endô's book Silence, and it's slated to arrive sometime late in 2016. We've already gotten a first look at The Amazing Spider-Man star Andrew Garfield in the film, but now a new photo of co-star Liam Neeson has surfaced online as well. Check out the Silence first look photo below!
Here's the first photo of Liam Neeson in Silence from Variety: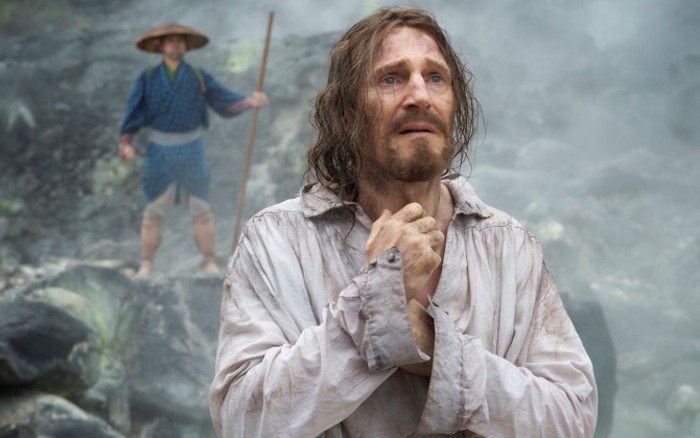 For those who aren't familiar with the novel on which the film is based, here's the story:
Young Portuguese Jesuit Sebastião Rodrigues is sent to Japan to succor the local Church and investigate reports that his mentor, Fr. Cristóvão Ferreira, has committed apostasy. (Ferreira is a historical figure, who apostatized after torture and later married a Japanese woman and wrote a treatise against Christianity.)
Fr. Rodrigues and his companion Fr. Francisco Garrpe arrive in Japan in 1638. There they find the local Christian population driven underground. Security officials force suspected Christians to trample on fumie, which are crudely carved images of Christ. Those who refuse are imprisoned and killed. The novel relates the trials of the Christians and increasing hardship suffered by Rodrigues, as more is learnt about the circumstances of Ferreira's apostasy.
Garfield plays Rodrigues while Neeson is playing Ferreira, a much different kind of priest from the one he played in Scorsese's Gangs of New York. The latter actor recently talked a bit about the project at the Los Cabos International Film Festival, and while he didn't give anything away, he did talk about what it's like working with Scorsese again:
"Who's going to turn down a job with Martin Scorsese? He's a very special director and for actors he's exceptional. His level of concentration and focus, what he prepares for the actors before you come on set is just wonderful. He gives 200%. All he requires is that you give 100%. He's intimidating. He requires absolute silence on the set — if he hears one tiny sound, it shatters it for him."
You heard it heard it here, folks. Scorsese requires silence on the set of Silence. That's how the director has worked for years, and I'm sure since he's been trying to get this project off the ground for nearly 20 years, he wants to make sure he gets it absolutely right. When his funding from Fabrica de Cine in Mexico and SharpSword finally came through after Paramount Pictures agreed to distribute in 2016, the director couldn't have been happier:
"I've wanted to make Silence for almost two decades, and it is finally a reality. It is heartening to have adventurous partners like Fabrica and SharpSword to work with on this picture."
Since Scorsese attended seminary with a hope of becoming a priest at one point in his younger years, it's easy to see why this kind of movie would be a passion project for him. But what about the story drew Neeson to the project? He explains a similar religious connection that began early in his life (via Collider):
"Being raised an Irish Catholic myself, the subject of faith and Catholicism struck very deeply home. The question in the film is: Is there a god? We're all in some way asking ourselves that all the time. What is the purpose of life? What is faith? Why have faith? Why do we wake up in the morning and get out of bed? It's as basic as that and the film asks all these questions and dramatizes them in a very exceptional way."
It's certainly already one of my most anticipated projects of 2016 already, even though we don't have a set release date yet. However, it sounds like the film is aiming for a premiere at the 2016 Cannes Film Festival, or at least that's what producer Gaston Pavlovich said in Los Cabos. But as for when you can expect a theatrical release, it will likely happen later in the year in the heart of awards season.