'Wonder Woman' First Look: Chris Pine As Steve Trevor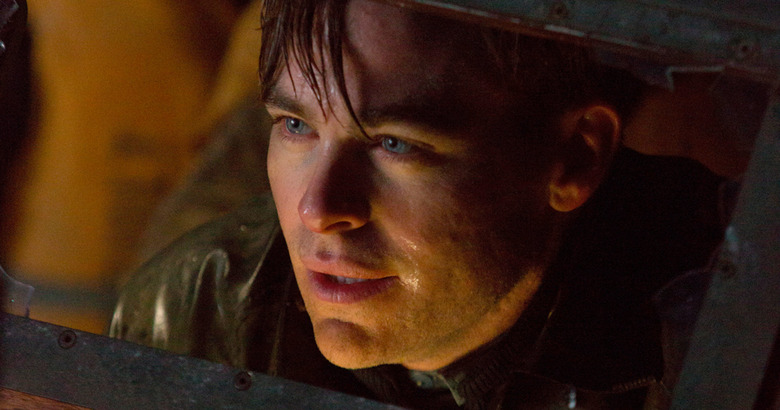 We've gotten plenty of glimpses of Gal Gadot as Wonder Woman, even if we haven't seen her on the set of the heroine's first solo film in the DC cinematic universe just yet. She'll be popping up in Batman v Superman: Dawn of Justice next spring, so we already know what this big screen version of Wonder Woman is bringing to the table. But what we haven't seen is her co-star Chris Pine, until now.
A new photo from behind the scenes of Wonder Woman has revealed Pine in his World War I wardrobe as Steve Trevor. But it's the source of this photo that also reveals a new cast member that we hadn't heard about yet.
First of all, here's the photo showing Chris Pine in Wonder Woman (via ScreenRant):
Here's the first image of Chris Pine as Steve Trevor in #WonderWoman. pic.twitter.com/pNBQOLyxLs

— GeekFeed (@GeekFeedDotCom) November 14, 2015
Both of these photos came from French actor Saïd Taghmaoui (La Haine, Traitor, G.I. JOE : Rise Of Cobra, Three Kings) on his Facebook and Instagram, but they've since been deleted from both pages. Of course, this is the internet, where nothing ever really disappears, so here they are.
As you can see, both Pine and Taghmaoui are wearing World War I wardrobe, confirming that at least part of the story takes place in the past. If you're wondering why that piece of paper in the background says "Nightingale," that's the working title for the movie to try and keep things low key for people who aren't aware of what the movie is from snooping around on set.
We recently heard that the second half of the film takes place in present day, and a different rumor had Steve Trevor working with Wonder Woman in present day to prevent some kind of World War III kind of event. But taking this photo into account, we likely won't see Steve Trevor around in the second half of the movie unless he's an old man or some kind of sci-fi element comes into play to keep him young.
As for Taghmaoui's role, we don't know if he's playing a character from the comic books or how significant his role may be. But since he's got a chair right along side Gal Gadot and Chris Pine, it must be a pretty meaty role.
Otherwise, we haven't heard much about any other supporting characters with the exception of Nicole Kidman potentially playing an Amazonian warrior. With production on the film from director Patty Jenkins underway, surely we'll get some more information on the rest of the cast soon, so stay tuned for more details.
Wonder Woman is slated to arrive on June 23, 2017.