'Room' Director Lenny Abrahamson To Direct Biopic About Bisexual Boxer Emile Griffith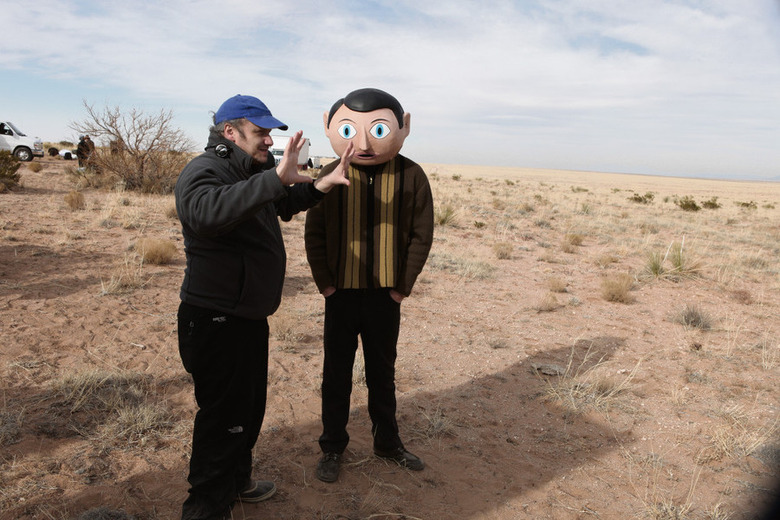 You might think Lenny Abrahamson would want to follow up his kidnapping drama Room with something a little harrowing, but instead he's heading for more dark material. The Irish director has just been set to direct a film about bisexual boxer Emile Griffith. Though a two-time world welterweight champion, Griffith is best known for beating his opponent Benny "The Kid" Paret to death in the ring in 1962 after the latter taunted him with a gay slur at weigh-in.
Get lots more details on the Lenny Abrahamson Emile Griffith movie after the jump. 
Deadline got the scoop on the Lenny Abrahamson Emile Griffith project. Abrahamson will co-write the screenplay based on the Donald McRae book A Man's World: The Double Life of Emile Griffith. The film will be produced by Film4 and Ed Guiney, who's worked with Abrahamson on several features including Room. Griffith's story was previously chronicled in Ron Berger and Dan Klores' 2005 documentary Ring of Fire.
Born in 1938 in the Virgin Islands, Griffith entered the world of professional boxing in 1958. A few years later, in 1961, he won the welterweight title in a match against Paret. Six months later he lost the title. On March 24, 1962 Griffith and Parent were set to face off for the title again in Madison Square Garden. During weigh-in, in a room full of journalists, Paret grabbed Griffith's butt and hurled a gay slur at him.
Griffith was in fact bisexual, at a time when homosexuality was not just stigmatized but criminalized in the U.S. The reveal of his secret would have destroyed his career, if not his life. Later, during the 12th round of their fight, Griffith cornered Paret and pummeled him as he slumped against the ropes. After the referee finally stopped the fight, Paret was taken, unconscious, to the hospital, where he died 10 days later. Griffith (along with his sport) was vilified, and he continued to harbor guilt about Paret's death for decades. Griffith himself died in 2013.
Said Abrahamson about Griffith's story:
It is so rich that it's hard to know where to start. As a character study, Griffith is incredibly compelling. There was a gentleness and innocence about him, and he never seemed conflicted about his sexuality; indeed he found joy in it. He inhabited two worlds — the underground gay scene in New York in the '60s and the macho world of boxing. The societal stigma at that time was dreadful and created a crushing pressure on him.
You look at how closely his two worlds intersected. Just how different are they, when the sport is such a celebration of the male body and the beauty of its athleticism. Go one step further, and inject the tiniest sense of sexuality, and people are up in arms. Griffith himself once said a quote that just floored me. 'They forgave me for killing a man, but they couldn't forgive me for loving a man.' That to me was so powerful and such a crazy contradiction. And it is still relevant today.
Abrahamson has demonstrated a knack for handling dark subject matter with intelligence and sensitivity. Room, which is currently getting critical raves and Oscar buzz, is a heart-rending and heartwarming drama about a boy and his mother who have been held captive for years; his 2012 drama What Richard Did dealt with the fallout of a teenager's shocking act with nuance and empathy. Even Frank, a relatively lighter movie, broached the subject of mental illness. Griffith's complicated story should be right in Abrahamson's wheelhouse.