Force Awakens Running Time, New Footage, Starkiller Base Details And Much More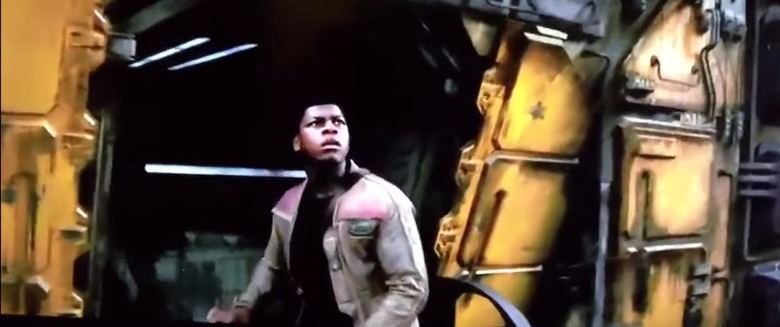 Okay, so today ends the abundance of Star Wars: The Force Awakens news breaks as the Entertainment Weekly cover story has been released. After the jump you can find a round-up of all the new information we haven't previously covered, including the final Force Awakens running time, the answer to if Starkiller base is another Death Star, Lawrence Kasdan talkimg about "starting from scratch" when he came on to rework Michael Arndt's script, details on Kylo Ren and General Hux's relationship and motivations, Daisy Ridley's funny Harrison Ford story and much more. We also have a 47 second preview that aired on Disney XD in the UK which features a bunch of new footage.
First of all, Disney XD ran a behind the scenes preview for Star Wars: The Force Awakens. You can watch the 47 second video below (found via MSW):
The cover story in the latest issue of Entertainment Weekly reveals these new tidbits:
The final edit of Star Wars: The Force Awakens is complete and has a running time of 2 hours and 15 minutes. Picture was locked on November 3rd 2015 at midnight, but JJ Abrams and crew will be spending the next few weeks finalizing the film's visual effects, sound effects and a final scoring session with composer John Williams.
JJ Abrams confirms that the First Order's Starkiller Base is another Death Star, but much more powerful and different than the previous ones seen in the original trilogy"  "It is very much — and it's acknowledged as such in the movie — apparently another Death Star. But what it's capable of, how it works, and what the threat is, is far greater than what the Death Star could have done. Starkiller Base is another step forward, technologically speaking, in terms of power."
When screenwriter Michael Arndt was removed from working on Star Wars Episode VII and replaced by JJ Abrams and Lawrence Kasdan it was said it was because Arndt wasn't able to meet their timeline. JJ has said in the past "It became clear that given the time frame and given the process and the way the thing was going that working with Larry in this way was going to get us where we need to be and when we needed to be." Arndt gets writing credit on the final film but Kasdan claims in EW that "we started from scratch, it was getting a little critical. We had so little time that you can't allow yourself to get stuck, you just keep moving forward all the time." Of course, Michael Arndt still shares a screenwriting credit with Abrams and Kasdan, so it couldn't have been completely "from scratch" as Kasdan puts it.
But we do get a sense of how the script changed with the following story that suggests that The First Order may have been different in Arndt's drafts. Production designer Rick Carter was leading the charge on artists creating possible new sets and new characters before JJ Abrams and crew had been hired. One of the concept images that Carter's crew produced during this time as an "image of a Nuremberg-esque rally for the new legion of evil, the First Order." Apparently Abrams saw the design and part of his new direction with Kasdan was to build a story around the gathering. Carter reveals very little, "It's more than just a rally, but I won't say more than that."
General Hux (played by Domhnall Gleeson) is said to be a "ruthless commander" and "a strong disciplinarian" in the First Order who is not an ally of Kylo Ren as they are both vying for power. Hux is driven by power and isn't afraid to "put a few people down on the way to get there." Gleeson also comments that Hux is motivated by "The fear of individuality, People who are messed up themselves often want to squash the individuality out of other people because they're afraid of what it means."
JJ Abrams confirms that Kylo Ren's mask was "meant to be a nod to the Vader mask." I think we all suspected as much after seeing the back of the helmet on the toys released on Force Friday.
Rey's speeder has no hidden weaponry, inside there is a tool kit hidden inside that Rey makes use of. The grill of Rey's speeder was from a 1922 Aston Martin that art director Gary Tomkins photographed when visiting a UK vintage racing car event called the Goodwood Revival in hopes of finding inspiration for Episode VII.
As we know, there is a scene where Rey flies the Millennium Falcon as seen in the trailers. After they shot that scene, there is another sequence where Rey and Han fly it together. Daisy Ridley has a funny story about it: "I went to get into the pilot seat and he was like 'that's mine'. I was genuinely mortified and JJ was sitting there like 'Oh my god.'"
Rey's wardrobe is very functional for a scavenger living on the desert planet of Jakku, even if those functions are not seen in Force Awakens. The long scarf that crisscrosses her body could be used as protection against sandstorms. I love that the details are thoughtful and not just something that looks cool.
And the following quote could be the most revealing of the material in the issue, so don't read it if you are trying to avoid possible spoilers: Adam Driver hints at Kylo Ren's motivations saying every villain has an internal battle: "Really its just because someone wasn't loved enough or felt betrayed." I'm not going to speculate what he might be suggesting, I'll just leave that to you.
I highly recommend picking up the latest issue of Entertainment Weekly (its available now on the iPad and probably in newsstands next week) to read the whole thing.