Rooney Mara Says She's Still Up For 'Dragon Tattoo' Sequel: "As Far As I Know I'm Doing It"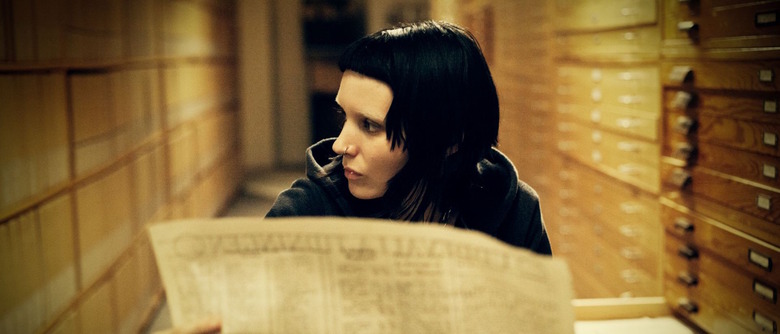 A few weeks back, word got around that Sony was finally moving forward with a The Girl With the Dragon Tattoo sequel – without David Fincher, Daniel Craig, or Rooney Mara. But that last part seems to be news to Mara. The actress says she's still attached to the franchise, as far as she knows, and that "of course" she'd love to make another. Read the Rooney Mara Dragon Tattoo sequel comment after the jump. 
Originally, Sony's hope was to follow up The Girl With the Dragon Tattoo with The Girl Who Played With Fire, based on the second book in Stieg Larsson's Millennium series, with Fincher, Craig, and Mara all returning. But Dragon Tattoo disappointed at the box office, and after some on-again, off-again development the sequel eventually stalled. As of earlier this year, Mara sounded pretty pessimistic. "I don't think it's going to happen. I'm sad never to do it again, but it just doesn't seem like it's in the cards," she said.
Then earlier this month, Sony started making plans for a different Dragon Tattoo sequel. This one would be based on David Lagercrantz's The Girl in the Spider's Web (the fourth book in the Millennium series, and the first not written by the late Larsson), and the principal roles would be recast. Stephen Knight (Locke) was hired to write the script, and Alicia Vikander was rumored to be an early frontrunner to play antisocial hacker Lisbeth Salander.
But in a recent conversation with E!, Mara shrugged off the notion that her days as Lisbeth might be over. "As far as I know I'm doing it until someone tells me otherwise." She added with a laugh, "I'm doing it unless someone tells me that I'm not — and then I still might do it."
Mara has long maintained that she'd be happy to return for another Dragon Tattoo, which isn't too surprising considering the first one earned her an Oscar nomination. And more so than Craig or Fincher, she's really the face of the would-be franchise. If there's anyone from the original movie that Sony should want to bring back, it's her. So if Sony wants to make a Dragon Tattoo sequel and Mara wants to star in a Dragon Tattoo sequel, what's the problem?
The answer might lie in the earlier report about the planned Spider's Web movie. We reported at the time that the studio was hoping to make the sequel for cheaper than the $90 million it cost to make the first one, and that Craig was out because he wanted a pay raise. It seems plausible the same applies to Mara, who probably commands a much higher fee in 2015 than she did in 2011.