Early Buzz: Pixar's 'The Good Dinosaur' Is Visually Breathtaking, Not As Emotional As 'Inside Out'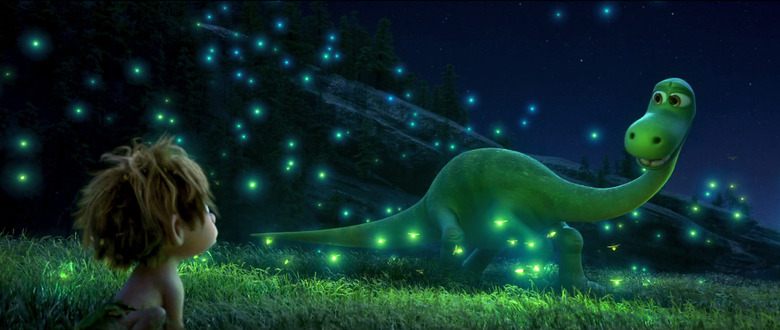 Disney is holding the press junket for Pixar's The Good Dinosaur this weekend, which means the first critics and journalists have begun seeing Peter Sohn's "man and his dog" tale set in a world where the prehistoric era never ended.
So what are the early tweets and reviews saying about Pixar's latest computer animated film? It seems like the consensus agrees that the film is stunning and visually breathtaking, with fantastic sequences and a story that is at times too conventional but at other times very unconventional, dark and inspired. Most of the reviews seem to note that the film is not as emotionally wrenching as Pixar's previous film Inside Out. Hit the jump to read spoiler-free quotes from The Good Dinosaur reviews.
Quotes From The Good Dinosaur Reviews Thus Far
Justin Chang at Variety: "Serving up a sweet tale of interspecies friendship and a stunning prehistoric vision of the American Northwest, The Good Dinosaur is easily one of the great landscape films of 2015, even if what unfolds against that landscape isn't always as captivatingly rendered. " ... "in a picture that, for all its signature visual artistry, falls back surprisingly often on familiar, kid-friendly lessons and chatty anthropomorphic humor. Clever and cloying by turns, it's a movie that always seems to be trying to evolve beyond its conventional trappings, and not succeeding as often as Pixar devotees have come to expect. It's no knock on "The Good Dinosaur" to note that it is neither as ingeniously conceived nor as emotionally wrenching as this summer's Inside Out, a movie it doesn't even try to emulate; it falls into that humbler category of Pixar efforts, like Brave and A Bug's Life, that are content to riff engagingly on material we've seen before, rather than imagining an entirely new world from scratch.Inkoo Kang at The Wrap: "After a schmaltzy start, this Jurassic coming-of-age story blossoms into a tale as subtle, funny and moving as anything the studio has ever made. .... a fantastic and frequently exhilarating feature that showcases Pixar's greatest strengths: technical brilliance, emotional texture, crossover appeal, and an impish sense of humor that takes the utmost advantage of the animated form. ... The Good Dinosaur is a triumph of creativity."Michael Rechtschaffen at the Hollywood Reporter: "a visually breathtaking work of computer-generated animation that is ultimately unable to compensate for a disappointingly derivative script." ... "Following in the footsteps of the truly inspired Inside Out, this year's second Pixar effort can't help but feel safely benign by comparison, and although it contains some darker, more intense moments, it will likely skew to younger, dino-obsessed Thanksgiving holiday audiences." ...  "the production's photo-real naturalism is a true bar-raiser. Those CG-rendered backdrops, taking their visual cues from Yellowstone's waterfalls to Montana's grasslands, bring that custom Pixar cutting-edge technology into an exciting, new, wondrous place."Tim Grierson at Screen International: "In some ways, The Good Dinosaur is one of Pixar's most conventional films... But that template sets the stage for a mythic, visually resplendent treatment of familiar material, as first-time feature director Peter Sohn wrings considerable emotion from a tale that's part Western, part Incredible Journey-style adventure." ... "although the humour can be inconsistent and the plot points a little obvious, The Good Dinosaur mostly transcends the archetypal storytelling by delivering a steady stream of simply stunning sequences. By now, it might be a given that Pixar's movies are visually spectacular, but The Good Dinosaur may be the studio's most purely cinematic, the richness of the design and the emotional power of the widescreen compositions stirring deep, almost primal feelings about childhood, the loss of innocence and the untamed ferocity of the natural world." ... "Credit, too, goes to a nervy score by Mychael Danna and Jeff Danna, which mixes strains of country, Native American music and more traditional orchestral soundtrack. The juxtaposition might seem odd on occasion, but like the film in general, it's proof that Pixar refuses to go on autopilot, pushing its artists into new, and sometimes quite rewarding, terrain."