Tracy Morgan To Play Redd Foxx In Lee Daniels' Richard Pryor Biopic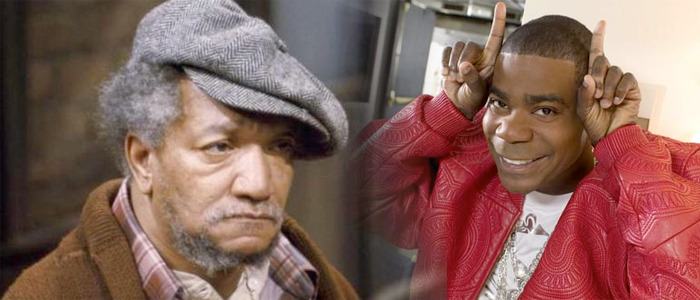 This past August, we learned that the long-gestating Richard Pryor biopic was finally moving forward, with Mike Epps leading the film to be directed by Lee Daniels from a script by Dreamgirls scribe Bill Condon and Fox's Empire collaborator Danny Strong.
And now the production has just gained a new cast member to play another iconic comedian. We have word that Tracy Morgan will be playing Redd Foxx, the stand-up comedian and star of the hit classic comedy series Sanford and Son. Find out how Foxx fits into the Pryor biopic below.
Foxx owned a comedy club and gave Pryor his start by hiring him as the opening act. This was long before Foxx would be the star of the aforementioned sitcom, but it's always fascinating to learn about how certain talents crossed paths and helped each others' careers. If you're curious to see what kind of work Morgan has ahead of him as Foxx, here you go:
This role is quite the departure from the kind of silly roles that Morgan usually takes in comedies, and a bold move considering he just recently made his full comeback to acting after an accident put him in the hospital. But Morgan is ready for the challenge, telling THR, "Mr. Foxx, I hope I do you justice! It will be an honor to portray an icon." No word on whether his portrayal of Foxx will be so good that it will get someone pregnant.
Morgan recently demonstrated that his comedic talent is still intact by returning to host Saturday Night Live, the show that launched his career. It's been the best episode of the season so far, and you can check out our review of all the sketches right here. The Pryor movie will require Morgan to play a real-life comedian and likely show some dramatic chops at well, so I'm very interested to see how he pulls it off. We'll next see Morgan alongside Charlie Day and Ice Cube in the comedy Fist Fight from New Line.
We've seen plenty of life stories about entertainers, especially ones with troubled childhoods, and Richard Pryor's rise to fame is certainly rife with struggles, complete with a grandmother (to be played by Oprah Winfrey) who ran a brothel and abused him. But it's rare that we see a story like this set in the world of comedy, so this should be a fascinating true story.
The rest of the cast includes Eddie Murphy and Taraji P. Henson as Pryor's parents and Kate Hudson as his wife. There's a good chance some other names will be brought in to play veteran comedians from the era, but we'll have to wait and see how that pans out