Adam Wingard's 'Death Note' Books 'The Leftovers' Actress Margaret Qualley As Female Lead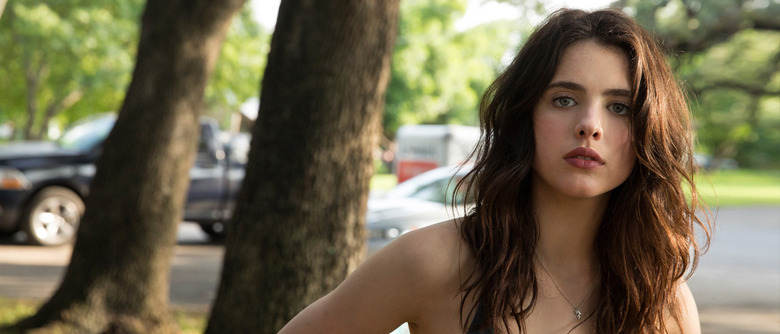 Adam Wingard has found another new name for his Death Note. The Leftovers star Margaret Qualley is set to join Nat Wolff in Warner Bros.' live-action, English-language adaptation of the hit Japanese manga, about a magical notebook that kills people. (Just go with it.) Learn more about the new Death Note female lead below. 
Death Note unfolds in a major American city, where a student (Wolff) comes across a supernatural notebook that allows him to kill anyone in the world simply by writing their name and picturing their face. He decides to use it to cleanse the world of people he deems evil or unworthy, and pretty soon the police take note of the rising body count. A brilliant, reclusive detective takes a special interest in the case and a cat-and-mouse game ensues.
THR reports Qualley is in talks to play the unnamed female lead. It's unclear how closely Wingard's movie will follow the source material, which makes it difficult to guess whom she'll play. If it's relatively faithful, though, it seems possible Qualley will take the role of Misa Amane, a model. She admires the Light (the student) and his deadly plans, and becomes infatuated with him. Her affections aren't exactly reciprocated, though Light isn't above using her for his own ends.
The Death Note manga ran from 2003 through 2006 in Japan, and has inspired an anime series and a trio of Japanese live-action adaptations. The American adaptation has been in on-again, off-again development for years. Shane Black was attached to direct at one point, but Wingard came on board earlier this year after he dropped out. Wingard is the director behind slick horror flicks like The Guest and You're Next.
Qualley made her debut in 2013's Palo Alto, which also starred Wolff. She can currently be seen in Season 2 of HBO's The Leftovers, and will next appear in Shane Black's The Nice Guys with Ryan Gosling and Russell Crowe.
Jeremy Slater (Fantastic Four, The Lazarus Effect) wrote the most recent draft of the Death Note script. Roy Lee, Dan Lin, Jason Hoffs, and Masi Oka are producing. Shooting on Death Note will begin in spring 2016.