Things Get A Bit Weird When Nathan Fielder Interviews The Cast Of 'The Night Before'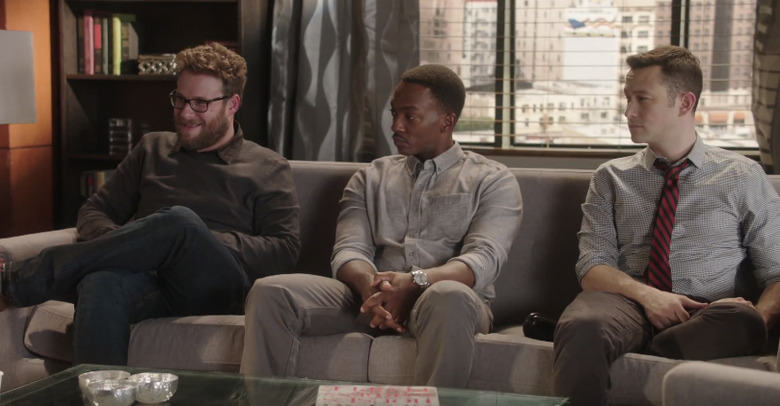 If for some reason you haven't acquainted yourself with comedic genius Nathan Fielder and his Comedy Central program Nathan for You, you're missing out on some of the most brilliant comedy that has been done in the past decade. But even if you don't think you've experienced what Nathan Fielder has to offer, there's a good chance you've heard of his exploits such as Dumb Starbucks or the viral video of a pig rescuing a goat from drowning.
Starting next week, you'll be able to see Fielder in a supporting role in the R-rated holiday comedy The Night Before, and to help hype the film, the comedian sat down for an awkward interview with the film's three main stars: Seth Rogen, Joseph Gordon-Levitt and Anthony Mackie. And things get pretty weird.
Here's Nathan Fielder interviewing The Night Before cast (via Comedy Central):
Fielder doesn't waste any time digging into the awkwardness by asking everyone about their sex life and following it up with questions about why his scenes in the movie were cut down significantly. Of course, it's all done in the name of comedy, and everyone does a fine job of going along with the joke.
However, there's a part of me that wishes this interview was done on some kind of local news station and went viral in that way as opposed to being sanctioned by Comedy Central. Knowing that everyone is in on the joke kind of takes away from the hilarity of it all. But at the same time, Fielder is so great at being earnest and genuine that it still brings plenty of laughs.
Watching Nathan for You, it's easy to see that Fielder is pulling off some Andy Kaufman-level brilliance in comedy here, doing something that no one else has attempted before. Therefore, I'm interested to see what he does as a supporting actor in a movie like The Night Before, opening on November 20th next week. Watch the recent red band trailer right here.