'Toy Story 4' Adds Patricia Arquette To Voice Cast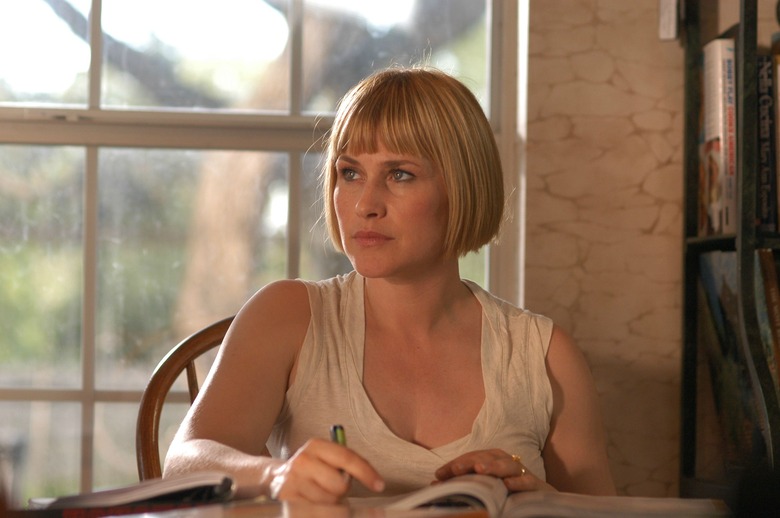 Patricia Arquette got the Academy's stamp of approval earlier this year, picking up an Oscar for her phenomenal, decade-spanning work in Richard Linklater's Boyhood. Now she's caught the attention of an (arguably) even more highly respected Hollywood institution: Pixar. Arquette is in talks to join the voice cast of Toy Story 4, alongside returning stars Tom Hanks and Tim Allen. 
TheWrap broke the Toy Story 4 Patricia Arquette casting news. According to their sources, Arquette will play "a laid-back mom who's described as a hippie." Toy Story 4 is expected to bring back many familiar voices including Don Rickles as Mr. Potato Head and Annie Potts as Bo Peep, last seen in 1999's Toy Story 2, but Arquette is the first new addition to the Toy Story 4 cast.
Pixar president Jim Morris has stressed that Toy Story 4 is not a continuation of Toy Story 3, as it won't focus on the relationship between the toys and their owners. Instead, it'll be a "love story" or a "romantic comedy" about Woody (Hanks) and Bo Peep. During this year's D23 panel, Toy Story 4 director John Lasseter revealed that Woody and Buzz will set out in search of Bo Peep, meeting many new characters along the way.
Arquette (rightfully) earned the best reviews of her career for Boyhood. Her other recent work includes a lead role CBS' CSI: Cyber, which premiered earlier this year, and a recurring role on HBO's Boardwalk Empire. She can be seen next month in the mob movie Wannabe. Toy Story 4 will be one of the few animated films Arquette has been involved with; she recently signed on to voice a character Troll: The Rise of Harry Potter Jr. (Which is not a Harry Potter sequel, even if the filmmakers are clearly hoping audiences will mistake it for one.)
Toy Story 4 is scheduled to open June 15, 2018. Rashida Jones and Will McCormack wrote the script.