WTF: The 'Gods Of Egypt' Character Posters Are... Something Else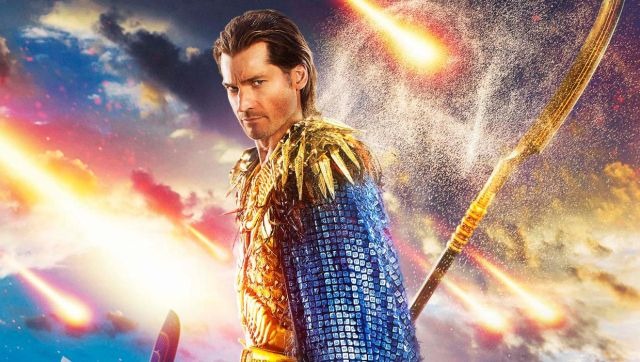 Alex Proyas doesn't make as many movies as we'd like to see from him. The director of Dark City and Knowing is a selective filmmaker. By studio filmmaking standards, he's an ambitious director. Knowing may not be everyone's favorite movie, but it does end with the destruction of Earth and the lead character dying, not saving the world. Proyas' new film, Gods of Egypt, may be his biggest one yet, based on the plot synopsis, but our first glimpse at the project doesn't exactly inspire confidence. Then again, these are just character posters.
Check out the Gods of Egypt character posters after the jump.
Hopefully they keep these posters out of theaters, because I can't imagine anyone walking by these and saying, "I gotta see this movie!" They kind of remind me of Tim Burton's remake of Charlie and the Chocolate Factory: too much of everything. The aesthetic is kind of an eyesore and just really cheesy. Sometimes cheesy is refreshing, but these posters are too cheesy for their own good.
Featured in our first-look at Gods of Egypt are Gerard Butler (300), Nikolaj Coster-Waldau (Game of Thrones), Chadwick Boseman (Get On Up), and Elodie Yung (Daredevil), Courtney Eaton (Mad Max: Fury Road), and Brenton Thwaites (The Giver)
These posters come from Yahoo!, Hitfix, IMDB, EW, Teen, and Lionsgate.
Again, maybe Alex Proyas' film doesn't resemble these posters in the slightest. Gods of Egypt comes out in February, and hopefully we'll get a better look at the film sometime soon. Since Proyas' picture comes out in three months, I'm guessing a trailer will drop online in the next week or two.
Here's the official synopsis for Gods of Egypt:
Magic, monsters, gods and madness reign throughout the palaces and pyramids of the Nile River Valley in this action-adventure inspired by the classic mythology of Egypt. With the survival of mankind hanging in the balance, an unexpected hero takes a thrilling journey to save the world and rescue his true love. Set (Gerard Butler), the merciless god of darkness, has usurped Egypt's throne, plunging the once peaceful and prosperous empire into chaos and conflict. With only a handful of heroic rebels opposing Set's savage rule, Bek (Brenton Thwaites), a bold and defiant mortal, enlists the aid of powerful god Horus (Nikolaj Coster-Waldau) in an unlikely alliance against the evil overlord. As their breathtaking battle against Set and his henchmen take them into the afterlife and across the heavens, both god and mortal must pass tests of courage and sacrifice if they hope to prevail in the spectacular final confrontation.
Gods of Egypt opens in theaters February 26th.