'Fifty Shades' Sequels Shooting Back-To-Back Under Director James Foley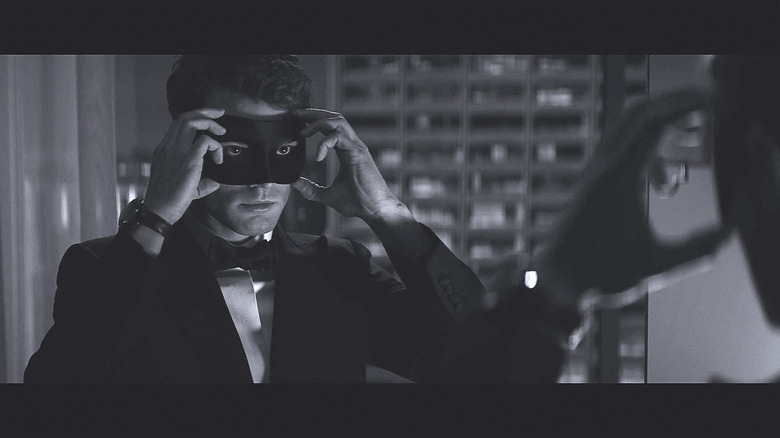 Universal Pictures has tied up a director for the next two Fifty Shades movies. James Foley, who was offered the job of directing Fifty Shades Darker back in August, is now confirmed to shoot both that film and its sequel, Fifty Shades Freed. Dakota Johnson and Jamie Dornan will return as kinky lovers Anastasia Steele and Christian Grey. Get the latest on the Fifty Shades sequels after the jump. 
TheWrap has the latest update on the Fifty Shades sequels. The two films will shoot back-to-back sometime next year. Fifty Shades Darker is due out February 10, 2017 and Fifty Shades Freed on February 9, 2018. Both will be scripted by Niall Leonard, a veteran of British TV who just so happens to be the husband of Fifty Shades author E.L. James. Michael De Luca and Dana Brunetti will once again produce.
Foley is an experienced filmmaker whose credits include Glengarry Glen Ross, Fear, and Perfect Stranger. Lately he's focused more of his energy on the small screen, directing episodes of Hannibal, House of Cards, Wayward Pines, and Showtime's upcoming Billions.
The first film in the series, Fifty Shades of Grey, opened this past Valentine's Day and grossed an impressive $570 million worldwide. That one was directed by Sam Taylor-Johnson and Kelly Marcel, who did a lot to improve on James's titillating but tediously written source material. And while Dornan spent every second of the movie looking like he couldn't wait for it to be over, Johnson brought a surprising warmth and humor to their romance.
However, even though moviegoers were apparently happy enough with the movie, James seemed less than satisfied. She and Taylor-Johnson famously butted heads on set, and when it came time to plan the sequels James started angling for more control. It was no surprise when neither Taylor-Johnson nor Marcel opted to return for the sequel, and Leonard's hiring was widely seen as a way to give James more creative power.
All signs point to Fifty Shades Darker and Fifty Shades Freed being more faithful adaptations of Johnson's source material, for better or for worse. While Taylor-Johnson's relatively subdued take on the story probably made it more palatable to mainstream audiences, it was also pretty tame compared to James's famously explicit books. Maybe those disappointed by the first film's restraint will finally get what they want in the next two installments.
If nothing else, at least Fifty Shades of Grey gave us that "unconventional desires" meme that carried us through the first half of the year.