Andy Serkis Opens Up About Supreme Leader Snoke, The Big Bad Of 'Star Wars: The Force Awakens'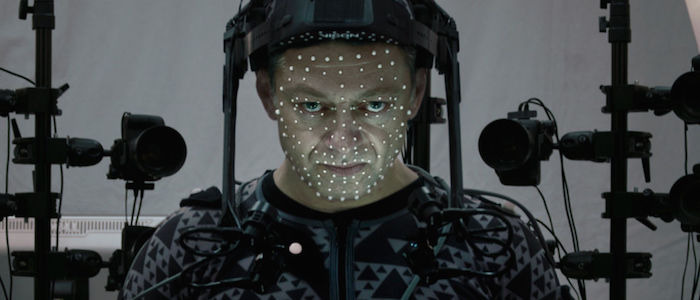 Our first and only proper tease of Andy Serkis' Star Wars: The Force Awakens character, Supreme Leader Snoke, arrived almost a year ago. It was his gravelly croak of a voice that spoke over the first trailer, the same batch of footage that gave us our first glimpse of Adam Driver's Kylo Ren, John Boyega's Finn, Oscar Isaac's Poe Dameron, and the instantly beloved BB-8. Since that teaser, we've learned our fair share about most of those characters, but Snoke remains an enigma. All we know is what we've scraped off the bottom of the internet rumor pile and even that remains questionable.
Well, that was true until right now. Serkis has finally opened up about his mysterious villain, who is supposedly intended to be a key figure who looms over the next few films in the series. In a new interview, the veteran character actor and motion-capture pioneer offered our first official information about Snoke, including why he had to be a digital character.
All of the Supreme Leader Snoke news you want (as well as a new The Force Awakens IMAX poster!) after the jump.
The interview with Serkis is the latest piece of Entertainment Weekly's big Star Wars cover story, which has already revealed details about Lupita Nyong'o's Maz Kanata, Leia Organa's new military title, and a terrific interview with the great Harrison Ford. It's been a big week for Star Wars fans as the patented J.J. Abrams mystery box that has kept so much hidden for the past year finally began to slide open just enough.
However, that mystery extends far beyond Star Wars fans watching from the sidelines. Serkis may have been on the set of The Force Awakens in a motion capture suit, but he didn't even know what Snoke even looked like until after he was done filming:
It's the first time I've been on set not yet knowing what the character's gonna look like. I mean talk about secrecy!
That may sound a little crazy, but the full interview actually paints a picture of a fascinating collaboration. Serkis, famous for bringing to life digital characters like Gollum, King Kong, and Caesar in Rise of the Planet of the Apes, would experiment with different movements and concepts on set and at his motion capture studio, the London-based The Imaginarium. Then Abrams and his team of special effects maestros would take what Serkis gave them and rework the character over time. The result is a character who has gone through many different iterations informed by choices made by both the actor and the team of VFX artists (which means that early "leaked" concept art may no longer represent the final character design).
Since he's being created through motion capture technology, Supreme Leader Snoke can't be just some humanoid. In fact, Serkis makes it clear that the character could never be accomplished through practical effects – mo-cap is the only way to do him justice:
No, no. The scale of him, for instance, is one reason. He is large. He appears tall. And also just the facial design – you couldn't have gotten there with prosthetics. It's too extreme. Without giving too much away at this point, he has a very distinctive, idiosyncratic bone structure and facial structure. You could never have done it [in real life].
Like Maz Kanata, Snoke will be a 100% digital character in a movie filed with practical make-up and puppets. Being able to compare both styles in the same scene should prove fascinating, especially since Snoke's design is apparently so extreme.
Serkis also dropped a few details about Snoke's backstory. There's not much here, but it's all very interesting:
Supreme Leader Snoke is quite an enigmatic character, and strangely vulnerable at the same time as being quite powerful. Obviously he has a huge agenda. He has suffered a lot of damage. As I said, there is a strange vulnerability to him, which belies his true agenda, I suppose.
We still don't know what Snoke's master plan is or where he came from. Serkis implies that he has no direct, longstanding beef with the heroes of the former Rebel Alliance (now the Resistance), so what's his deal? Where did he come from and what does he want? Since he appears to be the Emperor Palpatine to Kylo Ren's Darth Vader, it may take a few movies to get an answer.
And while we're here, Max Palas of Star Wars Post shared a theory: What if Snoke is a riff on Star Wars artist Ralph McQuarrie's early design for the Emperor?
I'm putting money down that Snoke is a variation on Ralph's early concept of the Emperor. pic.twitter.com/nsTPfhWmKq

— Max (@ArbiterDroid) November 12, 2015
Speaking of cool Star Wars art, a new IMAX poster for The Force Awakens has been revealed, giving us a new look at the now-familiar shot of Daisy Ridley's Rey trekking across the Jakku desert with BB-8. If you squint really hard at the sun, you won't be able to see Supreme Leader Snoke's hidden face.