Cool Stuff: Mad Max: Fury Road Posters By Christopher Cox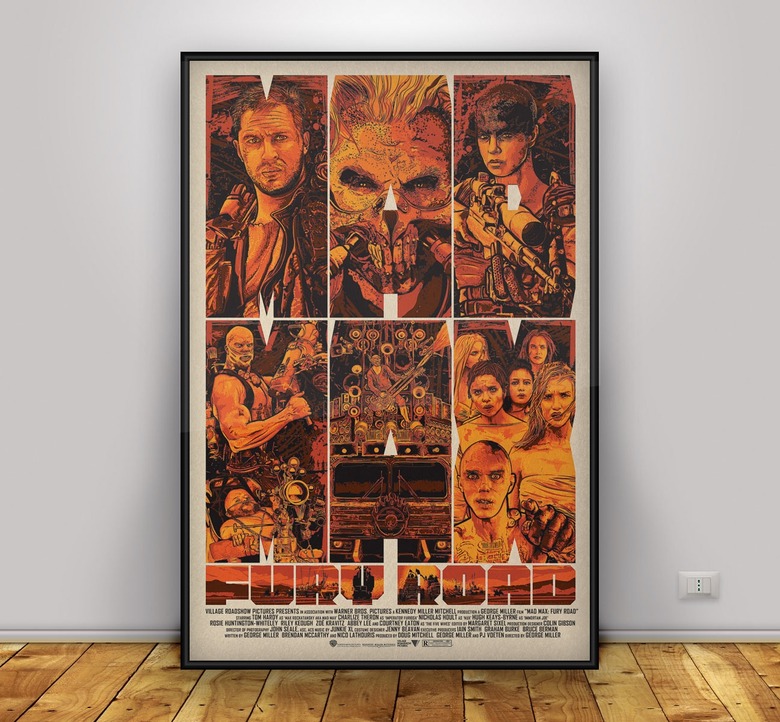 We've posted a lot of great Mad Max: Fury Road art over the past year, including a series from Poster Posse, Scott C's epically-sized Great Showdown and Mondo's Ken Taylor and Mike Mitchel prints. But that doesn't mean we can't post more great art inspired by George Miller's science fiction action adventure film.
The latest batch of Mad Max Fury Road art comes from Denver, Colorado-based artist Christopher Cox of Changethethought Studio, who created two very cool Mad Max: Fury Road posters which depict memorable moments from the film inside the film's bold title. Hit the jump to check out Cox's Mad Max Fury Road posters and even gain some insight into his process.
Christopher Cox created the posters as part of a private poster commission (which usually happens when a group of fans pool their money together to get an artist they love to create a specific poster screen print for a specific movie). I found the posters via LaughingSquid. Here Cox explains the poster and his process:
I was privately commissioned by a group of movie and screenprint enthusiasts to design and illustrate (or in this case illustrate first) a poster for the breakout action smash hit bad ass film Mad Max: Fury Road. It was a dream project and I went all out. The poster began as a typography only layout with the idea that large letterforms would be filled with illustrations. I spent upwards of 90 hours illustrating and developed a pointillism technique in Adobe Illustrator on my Cintiq. Each dot was done by hand. The group was thrilled with what was produced and the effort lead to several upcoming commissions. Both posters were printed with metallic inks. A regular 'Wasteland Daytime' version and a 'Night Terror' version were created.
You can see some images showing cox's process on his website. Below you can see some up-close images from the print to see the detailing that Cox put into all the imagery: