'Preacher' Creator Garth Ennis Is "Delighted" By AMC's First 'Preacher' Trailer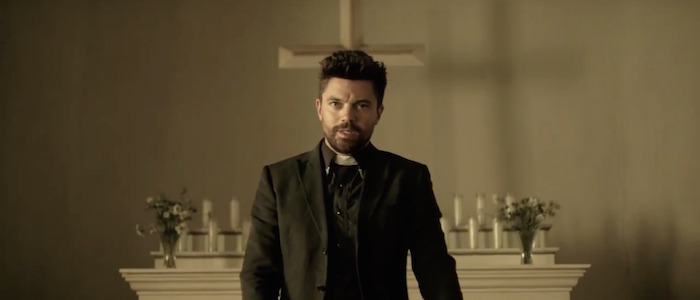 As with any adaptation, AMC's Preacher has come under close scrutiny from devoted fans of the source material. The first trailer attracted a lot of attention, both from the Preacher faithful and from curious newbies, but as usual there was plenty of grumbling that it just didn't look close enough to the comic book that inspired it.
One person who doesn't really seem to mind, though, is Garth Ennis. The writer behind the original comics says he's "delighted" with the new trailer, and claims the pilot, which he's already seen, is "excellent." Read the Garth Ennis Preacher trailer comments after the jump. 
ComicBook.com asked Ennis for his thoughts on the Preacher trailer shortly after its release. Here's his response:
I'm delighted with it. I like Jesse's grim dialogue taking you through it, and his explosion into violence. And Cassidy's little moment at the end is the icing on the cake.
In addition to their ambivalence about the footage shown in the trailer, many fans were annoyed about what wasn't shown. The trailer barely hinted at the story's supernatural elements, for example, and characters like Tulip (Ruth Negga) and Arseface (Ian Colletti) were seen only briefly or not at all. But Ennis insists the trailer is as representative of the show "as it needs to be." "I've seen the pilot, which I think is excellent — the trailer hits just the right note," he added.
Even though we've only seen a single 90-second trailer for Preacher so far, it's already pretty clear that anyone expecting a painstaking panel-by-panel recreation of the comics will be disappointed. (For starters, Dominic Cooper's Jesse Custer looks pretty different from his ink-and-paper counterpart.) However, Ennis says he's looking forward to seeing how the story has changed. "They've added a good deal to the basic plot of Preacher, and I've been pleasantly surprised by the results," he said.
Preacher doesn't actually premiere until mid-2016, so it'll be a while before we get a definitive answer on how this crazy, ambitious endeavor turned out. And even if Ennis likes the show, there's no guarantee that all of his fans will. But for now, it's just nice to hear that the show gets the stamp of approval from a guy who knows the source material inside and out. Revisit the trailer below: