'Annie Hall' Tops The WGA's List Of The 101 Funniest Screenplays Ever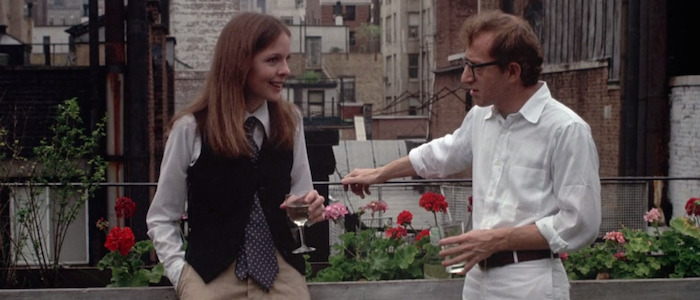 Comedy is no laughing matter, especially when you're ranking some of the most hilarious movies of all time. The Writer's Guild of America has released a list of the 101 funniest screenplays ever written, and like any list on the internet, there are plenty of obvious picks, more than a few surprise choices, and handful of selections that are a little baffling. Also like any list on the internet, this ranking doesn't feel like a definitive statement. It's more of a window into a larger discussion.
In other words, prepare to read over the list and starting arguing. Check out the full list of the 101 funniest screenplays ever written (according to the WGA) after the jump.
This list comes to us via The Hollywood Reporter, but it's unclear exactly how it was created. Were members polled? Were committees assembled? In any case, we can assume that there were many arguments to be had during its creation.
It's hard to argue with the top 15, which is a comprised entirely of bonafide classics. Woody Allen's brilliant Annie Hall stands at number one and it's an interesting choice. It probably contains fewer laugh-out-loud moments than Some Like It Hot (number two) and Airplane! (number four), but it's one of the best constructed comedies ever made and a definitively great romantic comedy. However, it also raises a big question about this list. Since Annie Hall was famously "found" in the editing room when the bulk of the original screenplay was thrown away, does it really have the funniest screenplay of all time? It's a masterpiece for sure, but for reasons beyond what was on paper.
This discussion also extends to movies like Borat (number 29), Waiting For Guffman (number 40), and Anchorman (number 54), which feature just as much improvisation as scripted material. And what about Duck Soup (number 17), where the screenplay was really just a clever way to string together a collection of the Marx brothers' inspired vaudeville bits? It's probably better to think of this list as as the funniest movies ever according to the WGA, because "screenplay" may not apply to everything here.
There are also plenty of debates to be had about the placement of newer films. Bridesmaids (number 16) is wonderful, but it hasn't had the time to age into a time-tested classic like The Jerk (number 19), His Girl Friday (number 21), The Princess Bride (number 22). That's the problem with lists like these – who the hell thinks The Hangover (number 30) has a better screenplay than Midnight Run (number 46)? That's insanity! Total craziness, WGA!
Nitpicking aside (and we kid because we love), it's hard to get too angry about any list that contains multiple screenplays written and co-written by Allen, Billy Wilder, Mel Brooks, the Coen brothers, and the Monty Python troupe. We've assembled the complete list of every movie below and because you deserve to have a good laugh today, we've included some clips for the top five movies. Enjoy, and remember to laugh as you explain why this list is so wrong in the comments below.
1. Annie Hall
2. Some Like It Hot
3. Groundhog Day
4. Airplane!
5. Tootsie
6. Young Frankenstein
7. Dr. Strangelove or: How I Learned to Stop Worrying and Love the Bomb
8. Blazing Saddles
9. Monty Python and the Holy Grail
10. National Lampoon's Animal House
11. This Is Spinal Tap
12. The Producers
13. The Big Lebowski
14. Ghostbusters
15. When Harry Met Sally...
16. Bridesmaids
17. Duck Soup
18. There's Something About Mary
19. The Jerk
20. A Fish Called Wanda
21. His Girl Friday
22. The Princess Bride
23. Raising Arizona
24. Bringing Up Baby
25. Caddyshack
26. Monty Python's Life Of Brian
27. The Graduate
28. The Apartment
29. Borat: Cultural Learnings of America for Make Benefit Glorious Nation of Kazakhstan
30. The Hangover
31. The 40-Year-Old Virgin
32. The Lady Eve
33. Ferris Bueller's Day Off / Trading Places (TIE)
35. Sullivan's Travels
36. Planes, Trains and Automobiles
37. The Philadelphia Story
38. A Night at the Opera
39. Rushmore
40. Waiting for Guffman
41. The Odd Couple
42. The Naked Gun: From the Files of Police Squad!
43. Office Space
44. Big
45. National Lampoon's Vacation
46. Midnight Run
47. It Happened One Night
48. M*A*S*H
49. Harold and Maude
50. Shaun of the Dead
51. Broadcast News
52. Arthur
53. Four Weddings and a Funeral
54. Anchorman: The Legend of Ron Burgundy/Dumb and Dumber (TIE)
56. Austin Powers: International Man of Mystery
57. The General
58. What's Up, Doc?
59. Wedding Crashers
60. Sleeper
61. Galaxy Quest
62. It's a Mad, Mad, Mad, Mad World
63. Best in Show
64. Little Miss Sunshine
65. South Park: Bigger, Longer & Uncut
66. Being There
67. Back to the Future
68. Superbad
69. Bananas
70. Moonstruck
71. Clueless
72. The Palm Beach Story
73. The Pink Panther
74. The Blues Brothers
75. Coming to America
76. Take the Money and Run
77. Election
78. Love and Death
79. Dirty Rotten Scoundrels/Lost in America (TIE)
81. Manhattan
82. Modern Times
83. My Cousin Vinny
84. Mean Girls
85. Meet the Parents
86. Fargo
87. My Favorite Year
88. Stripes
89. Beverly Hills Cop
90. City Lights
91. Sideways
92. Broadway Danny Rose
93. Swingers
94. The Gold Rush
95. The Miracle Of Morgan's Creek
96. All About Eve
97. Arsenic and Old Lace
98. The Royal Tenenbaums
99. Mrs. Doubtfire
100. Flirting with Disaster
101. Shakespeare in Love