'The Night Before' Red-Band Trailer: Now With More Michael Shannon And Ilana Glazer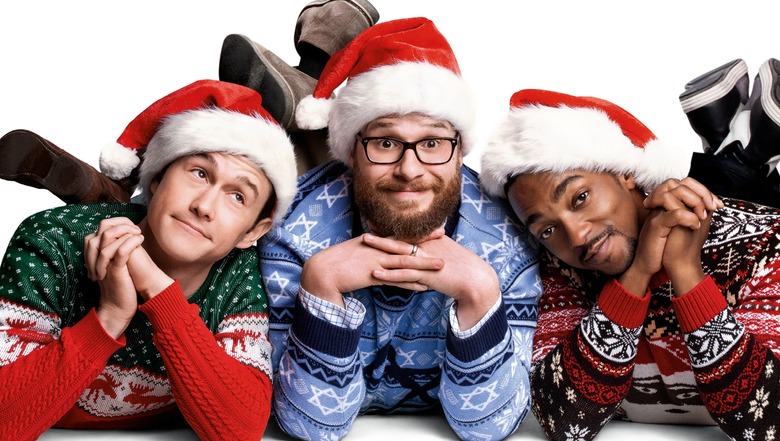 Christmas means many things to many people. For some, it's about spending time with loved ones. For others, it's a joyful celebration of traditions sacred and silly. The holiday can also be a time to reflect on the year that was, if you're the introspective type, or an enjoy a well deserved break if you've been working hard.
For the "ride or die homies" of The Night Before, Christmas is a combination of all of the above — but the way they celebrate it isn't exactly the stuff of wholesome family classics. Instead, the three best friends (played by Joseph Gordon-Levitt, Seth Rogen, and Anthony Mackie) go out on the town for a wild night powered by staggering amounts of booze and drugs.
Along the way they run into all sorts of bizarre situations made even more bizarre by the effects of all those intoxicants, and encounter all manner of colorful characters including ones played by Michael Shannon and Ilana Glazer. Watch the latest The Night Before red-band trailer after the jump.
Sony Pictures dropped the new The Night Before red-band trailer on YouTube.
During my visit to the set of The Night Before, director Jonathan Levine (50/50) told us he hoped the film would fill a certain gap in the Christmas movie canon. "It's for people who aren't served by the traditional Christmas movie or the traditional family structure," he said. Rogen concurred: "There is a void when it comes to Christmas movies aimed at our generation and just generally the type of [Christmas] movie that people like us would go see."
And the type of Christmas movie that people like Rogen and Levine want to see, apparently, is one that involves a lot of penises. "We probably have more dick jokes than most dick-joke movies," teased Levine. "We have the most dick jokes of any Christmas movie, safe to say, and the most dicks on screen, by far." Whether he makes good on that promise remains to be seen, but the trailer alone definitely uses the word "jizz" more times than any full-length Christmas feature I've ever encountered.
The Night Before arrives November 20th, just in time for... Thanksgiving? Eh, whatever. If it isn't too early for people to bicker about Starbucks' new seasonal cups, it isn't too early to enjoy some foul-mouthed, drug-fueled Christmas cheer. Jillian Bell, Mindy Kaling, and Lizzy Caplan also star.
Ethan (Joseph Gordon-Levitt), Isaac (Seth Rogen) and Chris (Anthony Mackie) have been friends since childhood, and for a decade, their yearly Christmas Eve reunion has been an annual night of debauchery and hilarity. Now that they're entering adulthood, the tradition is coming to an end, and to make it as memorable as possible, they set out to find the Nutcracka Ball – the Holy Grail of Christmas parties.