Neill Blomkamp Moving On From 'Alien' With Time Travel Sci-Fi Adaptation 'The Gone World'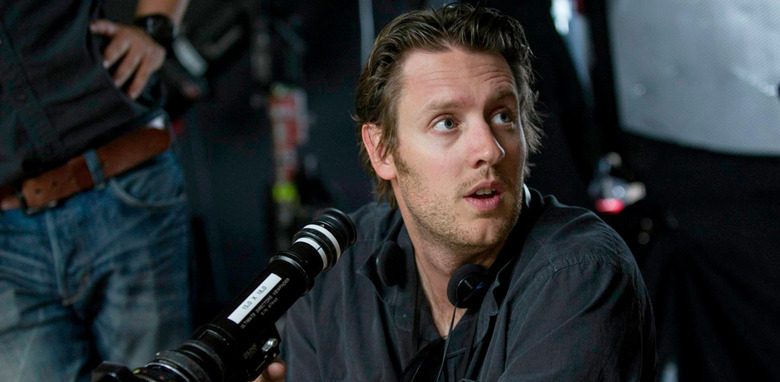 Neill Blomkamp's Alien sequel plans may be on hold indefinitely, but it looks like he's staying in business with 20th Century Fox. The studio has just acquired The Gone World, the forthcoming novel by Tomorrow and Tomorrow author Thomas Sweterlitsch, and Blomkamp is now in talks to write and direct it. 
Deadline broke the news of the Neill Blomkamp Gone World project. Sweterlitsch's new book is described as a "sci-fi time travel procedural," but details beyond that remain scarce. To give you a sense of what the overall vibe might be, Sweterlitsch's debut novel Tomorrow and Tomorrow drew comparisons to Raymond Chandler, Philip K. Dick, and Haruki Murakami when it was published earlier this year. TriStar scooped up the movie rights to that one but doesn't seem to have made much progress yet.
Fox hired Blomkamp for a new Alien movie in February, after the filmmaker had unveiled a trove of concept art that got the internet all hot and bothered. But Fox also had a sequel to Ridley Scott's Prometheus in the works, and the two projects inevitably bumped up against each other. As Scott's plans for Prometheus 2, now titled Alien: Paradise Lost, continued to evolve, Fox decided to slam the brakes on Blomkamp's movie.
Based on what little we know about The Gone World, it's not hard to see why it would've attracted Blomkamp's attention. Sci-fi is his genre of choice, and he seems to relish creating new worlds. What's a little less encouraging is the notion that he also plans to script. Writing is not Blomkamp's strong suit, as we've seen with Chappie and Elysium. Plenty of fans (myself included) were nervous about Blomkamp's Alien plans despite the cool-looking concept art, because he wanted to pen the screenplay as well as direct.
In fact, the director himself has admitted that the Elysium script "wasn't fully there" because he got too "caught up in concepts and ideas." Nor does he particularly seem to enjoy the screenwriting process; in another interview he compared it to "having root canal surgery." Given all that, it's a mystery why he continues to insist on writing all of his own scripts. It's not like Hollywood is lacking in talented scribes who'd leap at the chance to pen a sci-fi movie for a high-profile director at a major studio.
Blomkamp made a huge splash with his debut feature District 9, which was nominated for four Oscars including Best Picture. But his career since then has been a bit bumpy. His sophomore effort Elysium wasn't quite as well received, and Chappie was an out-and-out flop. Hopefully The Gone World will help him get back on track. Neither the Gone World book nor the Gone World movie have a release date yet.