'Spectre' Writer John Logan Tasked With Helping 'Alien: Paradise Lost' Make Sense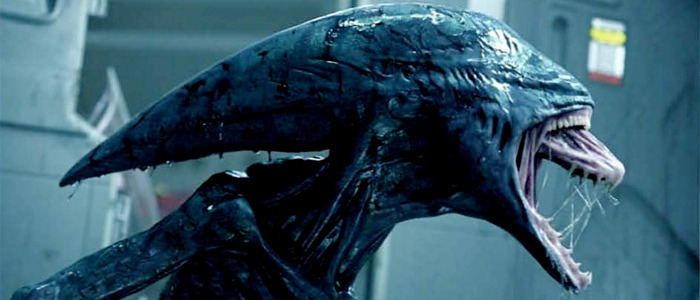 Prometheus was a thousand and one razor-sharp ideas crammed into a bag made of paper – the whole thing bursts and cuts you deep the moment you start poking it too hard. Ridley Scott's Alien prequel has ambition in spades and it's jaw-dropping on a technical level, but its story is a total mess. If this series is going to survive another installment, Alien: Paradise Lost will need a solid foundation.
And it looks like Scott has turned for help to someone he has worked with before. Three-time Academy Award nominee Spectre writer John Logan has reportedly been brought on board to rewrite the screenplay. Hit the jump for everything we know about the new Alien Paradise Lost writer.
The news about Logan joining the project is buried in a much larger Variety article about Scott receiving a star on the Hollywood Walk of Fame. Here's what we know: Scott and Logan are currently revising the Alien: Paradise Lost screenplay, beating things into shape for the film's February start date. Beyond that, all is speculation.
Logan is an interesting writer with a huge range. He received Oscar nods for writing and co-writing Gladiator, The Aviator, and Hugo, but his credits include other critical favorites like The Last Samurai, Sweeney Todd, and Rango. He's also the mastermind behind Showtime's Penny Dreadful, which has grown to be one of television's most giddily entertaining shows. However, his name is also on movies like Star Trek: Nemesis and The Time Machine, and the 1999 horror debacle Bats, so he's had his fair share of stinkers. Reactions to his recent contributions to the James Bond mythos with Skyfall and Spectre have been thoroughly mixed (shaken, not stirred).
Alien: Paradise Lost remains shrouded in mystery. We know that it will be a direct sequel to Prometheus, following Noomi Rapace's Elizabeth Shaw and Michael Fassbender's David as they continue their quest into the darkest, weirdest corners of outer space. We also know that they will meet up with a new batch of human meat sacks who will probably meet unpleasant ends. And that Scott used his considerable influence to all-but-kill director Neill Blomkamp's proposed Aliens sequel. Whatever he plans to do with the Alien series, Scott means business. No one else is allowed in his playground.
Even with the occasional stinker, Logan carries an air of respectability with him. He's a strong writer with a mostly strong body of work. We have no idea what he'll bring to something as unique as the Alien series, but that only makes us more curious to find out.
Alien: Paradise Lost is set for a May 30, 2017 release date.