Screenwriter Lawrence Kasdan Is Done With 'Star Wars' After His Han Solo Movie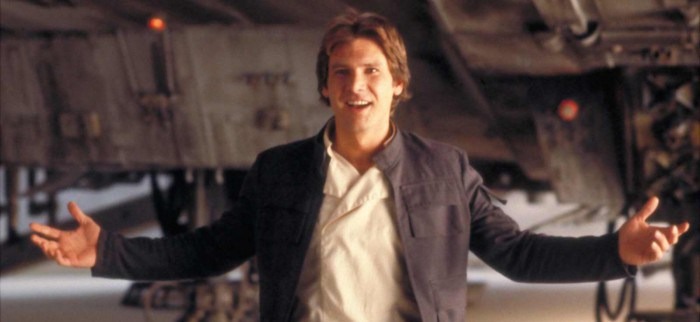 Once upon a time, Lawrence Kasdan wrote (and occasionally directed) many of your favorite movies. You'll find his name on Raiders of the Lost Ark, The Empire Strikes Back, Return of the Jedi, Body Heat, The Big Chill, and Silverado. For a stretch, he had a magic touch – whatever he touched turned into something great. Even the film that derailed his career for a decade, an adaptation of Stephen King's Dreamcatcher, is the kind of mesmerizing, stunningly awful bad-movie-masterpiece that could have only been made by a genuinely talented person.
When Star Wars: The Force Awakens was still in development a few years ago, director J.J. Abrams brought Kasdan into the fold to co-write the screenplay with him and it just felt right. After all, if you're going to capture that original trilogy vibe you might as well work with someone who helped craft that vibe in the first place. Kasdan immediately followed up that assignment with a Han Solo anthology film. However, the legendary screenwriter has now revealed that he'll be retiring from the Star Wars business after that next project.
For all the Star Wars writer news worth dissecting and speculating over, hit the jump.
The news comes to us from the German publication Bild (via Star Wars Underworld). Kasdan doesn't seem to bear any ill will toward the series or anyone working on it – he simply wants to spend some time with his family and get back into directing. In other words, he's disembarking the series for noble reasons.
However, it's hard to have much of an emotional response to this news right now, because the two new Star Wars movies Kasdan co-wrote aren't even out yet! Sure, The Force Awakens is a month away, but his young Han Solo spin-off, which he wrote with his son, screenwriter Jon Kasdan, is still three years away. We'll talk about how much we miss him in 2018. If his work in The Force Awakens contains half the personality as his earlier Star Wars work, we may miss him a great deal. Note the great screwball comedy angle he created for Han and Leia:
This feels very much like a passing of the torch. Kasdan leaving means newer, younger, hungrier talent can step up to take his place. Still, his presence in these early days of the great Star Wars revival has been comforting. Of course the guy who wrote The Empire Strikes Back should be allowed to have a crack at the new movie. And a Han Solo spin-off following the smuggler in his early days sounds like a monumentally bad idea unless you have Kasdan (and the miracle workers known as Chris Miller and Phil Lord) on board. After all, these are the people who know that no one wants to see a baby Han Solo.
Star Wars: The Force Awakens is set to open on December 18, 2015 while that untitled Han Solo spin-off will arrive on May 25, 2018.