'Triple 9' Trailer: A Star-Studded Cast Sends A Heist Careening Off The Rails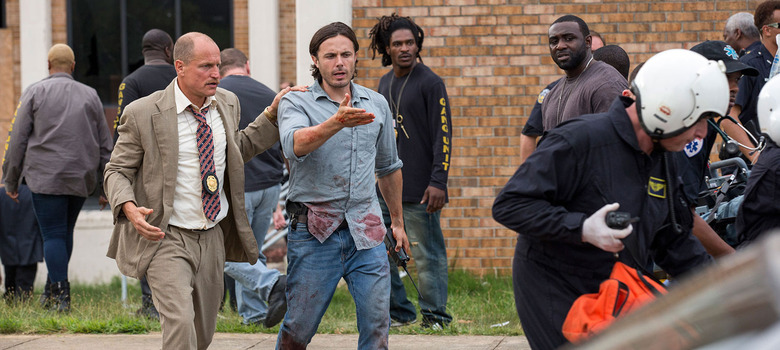 A great cast doesn't guarantee a great movie (just look at Black Mass), but it certainly never hurts. And John Hillcoat's Triple 9 has got a fantastic one. The director of Lawless and The Road has brought together Chiwetel Ejiofor, Kate Winslet, Woody Harrelson, Casey Affleck, Anthony Mackie, Aaron Paul, Clifton Collins Jr., Norman Reedus, and Gal Gadot for his new crime drama, about an impossible heist gone very, very badly awry. Watch the latest Triple 9 trailer after the jump. 
Entertainment One served up the new Triple 9 trailer.
Winslet might not be the first name that comes to mind for the role of a Russian mob boss, but Hillcoat and his casting directors deserve high fives for that inspired bit of casting. The Oscar winner looks like she's having great fun in a role that renders her almost unrecognizable.
Incredible cast aside, the latest Triple 9 trailer boasts a great sense of desperate energy, and a bleak story that keeps twisting and turning. Hillcoat isn't afraid of getting dark and dirty, as we've seen in films like Lawless and The Road. Hopefully Triple 9 will make the most of his talents and interests.
Triple 9 opens February 19, 2016 in the U.S. and U.K. Here's the synopsis from UK distributor Entertainment One:
When a crew of dirty cops is blackmailed by the Russian mob to execute a virtually impossible heist, they realise the only way to pull it off is to manufacture a 999, police code for "officer down". The chaos that ensues when a police officer is shot in the line of duty is just the diversion they'll need to do the job, but whether they have the will to kill one of their own is an entirely different matter. Their plan is turned upside down when the unsuspecting rookie they set up to die foils the attack, triggering a breakneck, action packed finale tangled with double-crosses, greed and revenge.