'X-Men: Apocalypse' Trailer Arriving With 'Star Wars: The Force Awakens'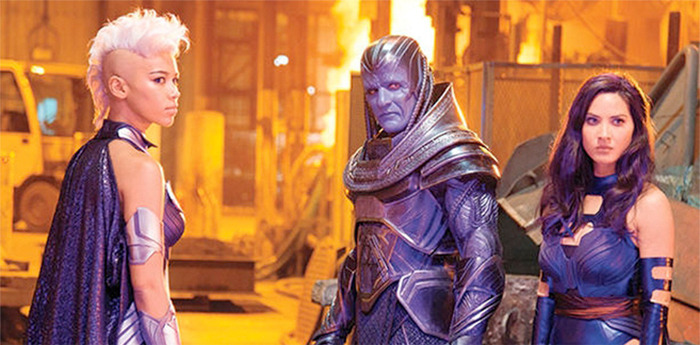 At Comic-Con this past summer, fans were given an early first look at X-Men: Apocalypse. The reel showed Oscar Isaac as the titular villain for the first time, along with the young versions of some familiar X-Men such as Cyclops, Storm and Jean Grey. Since then, everyone (who didn't watch a leaked version of the footage) has been patiently waiting for the trailer to arrive, and now we finally know when that will be.
The first X-Men Apocalypse trailer will arrive with Star Wars: The Force Awakens next month, and it will be a little more than just a teaser.
Speaking with Collider, the film's co-writer/producer Simon Kinberg confirmed the trailer's arrival:
I can in fact confirm that information. Our first trailer will be on Star Wars: The Force Awakens. It's our first thing out there so it is somewhat of a teaser but it's certainly longer than a minute and it has a ton of cool stuff in it.
The footage that was shown at Comic-Con definitely had some "cool stuff" to show off, and I wouldn't be surprised if we saw some of those clips again in the first teaser next month. If you need a refresher of what we saw at Comic-Con, check out our footage description over here.
More than likely, we'll get to see Isaac in action as Apocalypse along with Sophie Turner as Jean Grey, Tye Sheridan and Cyclops and Alexandra Shipp as Storm, not to mention Olivia Munn as the first integral iteration of Psylocke on the big screen. I wouldn't count on hearing Michael Fassbender ask Apocalypse, "Who the fuck are you?" But I hope that line makes it into the movie.
X-Men: Apocalypse is supposed to be the longest X-Men movie in the franchise and some recent reshoots were reported to include Hugh Jackman, so we might get a little more than just a cameo from Wolverine in this sequel. We've heard that this will be the end of Singer's take on the big-screen X-Men universe, so we're not sure how the franchise will continue after this movie. Although Singer won't be entirely done with mutants, since he's executive producing both the Legion and Club Hellfire television shows.
Since the dawn of civilization, he was worshiped as a god. Apocalypse, the first and most powerful mutant from Marvel's X-Men universe, amassed the powers of many other mutants, becoming immortal and invincible. Upon awakening after thousands of years, he is disillusioned with the world as he finds it and recruits a team of powerful mutants, including a disheartened Magneto (Michael Fassbender), to cleanse mankind and create a new world order, over which he will reign. As the fate of the Earth hangs in the balance, Raven (Jennifer Lawrence) with the help of Professor X (James McAvoy) must lead a team of young X-Men to stop their greatest nemesis and save mankind from complete destruction.
X-Men: Apocalypse arrives on May 27th, 2016.