Judy Greer Making Directorial Debut With Dramedy Starring Allison Janney And Common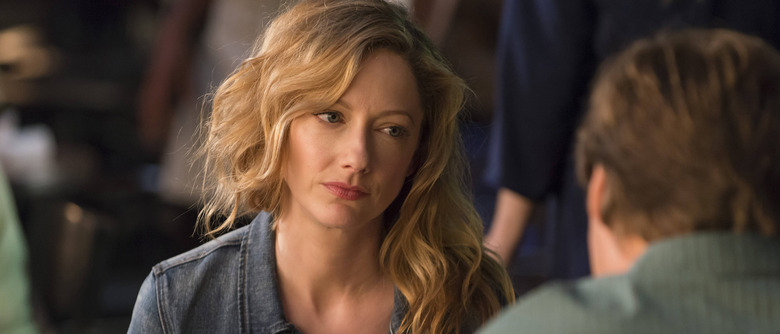 After over 15 years in front of the camera, Judy Greer is ready to step behind it. She's gearing up to make her directorial debut with A Happening of Monumental Proportions, an indie dramedy to be produced by Chris Weitz and Paul Weitz. The film already has two high-profile leads on board, Allison Janney and Common. More details on the Judy Greer directorial debut after the jump. 
THR reports that A Happening of Monumental Proportions "is set in a small school in Los Angeles that serves as the backdrop for an all-in-one-day tale of sex, lies and dead bodies." The script by Gary Lundy was a semi-finalist for the Nicholl Fellowship and a finalist for the Sundance Writer's Lab.Andrew Miano will produce with the Weitz brothers, as will David Gardner. According to Miano, Greer caught notice of the script first, and brought it to the producers with the intention of directing it herself. "Judy Greer had become an old friend of ours so when she called and she wanted to direct this for us, it was very flattering," he said. "Of course we said yes."
Over the past couple of years, Greer has somehow been both ubiquitous and frustratingly underutilized. She had no fewer than four major studio films out this summer — Tomorrowland, Entourage, Jurassic World, and Ant-Man – but had just a few lines in each of them. Greer being Greer, she made the most of these thankless roles, but that just made it all the more frustrating to see her get sidelined.
On the bright side, Greer has fared better in indies like Addicted to Fresno and Grandma, the latter of which was written and directed by Paul Weitz. Greer also currently lends her voice to FX's Archer, and starred in two seasons of FX's Married before it got cancelled a few weeks ago. She is now filming War for the Planet of the Apes, reprising her role from Dawn as Caesar's wife Cornelia.
Greer's experience as a director is limited to a short film she made for AOL. But hey, everyone's gotta start somewhere, right? You can check out Greer's short below:
Janney recently won an Emmy for her work on CBS' Mom, and is now shooting the high-profile thriller The Girl on the Train with Emily Blunt. She will soon be seen in Tim Burton's Miss Peregrine's Home for Peculiar Children. Common, who like Greer had a cameo in Entourage this summer, is currently filming John Wick 2. He'll star next summer in Suicide Squad.
Shooting on A Happening of Monumental Proportions will begin in Los Angeles in January.