'Zoolander 2' Posters: Blue Steel Never Goes Out Of Style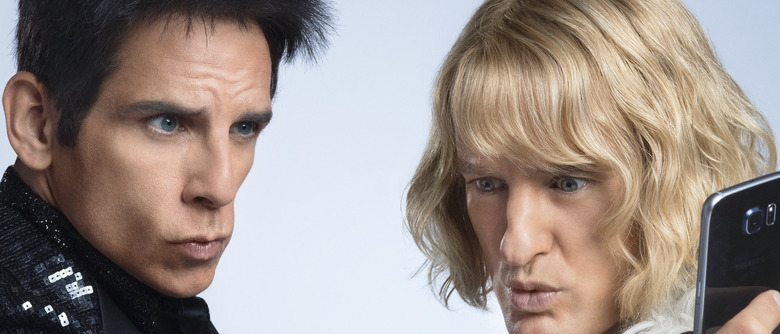 Though it's been well over a decade since Derek saved the Prime Rib of Propecia, he looks hardly a day older in the first posters for Zoolander 2. For that matter, Hansel hasn't aged at all either. They must have hyperbaric chambers at home a la J.P. Pruitt. Check out the new Zoolander 2 posters after the jump. 
Paramount shared the new Zoolander 2 posters. One features Derek Zoolander (Ben Stiller) in an elegant Chanel No. 5-style fragrance ad, while the other shows Derek and Hansel-he's-so-hot-right-now (Owen Wilson) mugging for selfies. They gotta stay current, after all.
The image of Derek and Hansel getting in each other's ways while trying to take selfies is just perfect. When the first Zoolander came out, smartphones were barely a thing, let alone Instagram or Snapchat. At the time, the trend was cell phones getting smaller and smaller (as seen in the Zoolander clip below). But of course they'd be all over social media now that it exists.
So after all this time, will Zoolander 2 still feel relevant? Well, that remains to be seen. But the first film continues to hold up surprisingly well, and so far Zoolander 2 sounds like an entertaining combination of the familiar and the new. Christine Taylor is back as Matilda Jeffries, along with Will Ferrell as Jacobim Mugatu and Billy Zane as Billy Zane. But there are lots of fresh faces, too, like Cyrus Arnold as Derek's son, plus Penélope Cruz, Kristen Wiig, and Fred Armisen.
The fashion world, at least, still seems into Zoolander's antics. Stiller and Wilson, in character as Derek and Hansel, actually walked the Valentino runway at Paris Fashion Week earlier this year. By all accounts, their performance was well received by fashionistas including Anna Wintour herself.
Zoolander 2 arrives in theaters February 12, 2016. The arrival of these new Zoolander 2 posters suggests we'll be getting a new full-length trailer soon, but until then you can keep up with the guys on Instagram. The first teaser trailer, released in August, is below.